Bear Of The Day: Zoom Video Communications, Inc.
It was always going to be impossible for Zoom Video (ZM - Free Report) to match its initial pandemic-fueled success even though the hybrid and remote work world is here to stay in some capacity. Zoom became a victim of its own meteoric rise and now its earnings outlook is trending in the wrong direction.

Zoomed Too Far, Too Fast
Zoom has expanded its portfolio from a video conferencing app to a more complete communications platform that includes the likes of Zoom Rooms, Phones, Events, and more. Its offerings are popular as businesses look to modernize their telecom solutions. The goal is to have a unified place for calls, videos, meetings, chats, and more.
Zoom was growing before the pandemic. In fact, its revenue surged 88% during its first-year public after its April 2019 debut. Zoom's software then took off. Its sales skyrocketed 326% from around $600 million to $2.65 billion in its fiscal 2021, driven by thousands of new paying clients.
The remote work world gained steam the following year as well. Zoom posted another 55% revenue growth in its FY22 (period ended January 31, 2022). Zoom ended the year with roughly 191K enterprise customers, up 35% YoY. Zoom has added to that total so far during its FY23, closing last quarter with approximately 204K enterprise customers, up 18% from the year-ago period.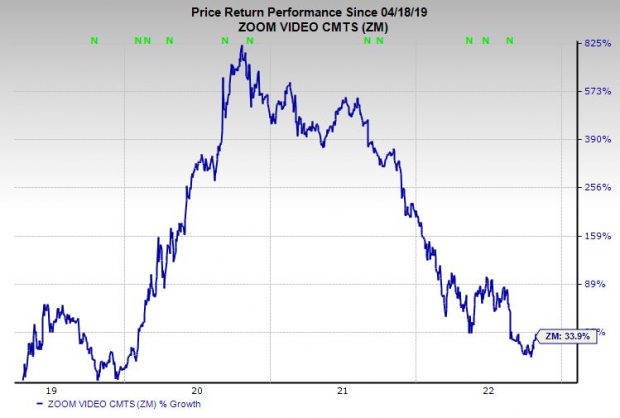 Image Source: Zacks Investment Research
Despite its ability to keep growing and adding enterprise clients, the videoconferencing firm simply cannot escape its own looming growth shadow for the moment. Zacks estimates call for Zoom's revenue to climb 7% this year to $4.39 billion and then another 10% next year to $4.81 billion.
Meanwhile, its adjusted earnings are projected to slip 27% this year to $3.71 per share and then come in essentially flat the next year. Zoom's EPS outlook has also trended in the wrong direction to help it land a Zacks Rank #5 (Strong Sell) right now.

Bottom Line
Zoom shares are down around 85% from their fall 2020 peaks. ZM has also managed to tumble 55% in 2022. The stock has bounced back a bit recently to close regular trading Thursday at $83.37 per share, and the current Zacks average price target offers a 50% upside. But now might not be the time for investors to take a chance on Zoom with it still trading at nearly 60X forward 12-month earnings in a rising interest rate environment.
---
More By This Author:
Bear of the Day: Applied Materials (AMAT)
Bull of the Day: Lululemon Athletica Inc.
Bear Of The Day: Nike, Inc.
Disclaimer: Neither Zacks Investment Research, Inc. nor its Information Providers can guarantee the accuracy, completeness, timeliness, or correct sequencing of any of the Information on the Web ...
more