Bear Of The Day: The Clorox Company
It's been a tough stretch for many stocks throughout 2022, and The Clorox Company (CLX - Free Report) has been no exception. Below is a year-to-date chart of the company's share performance with the S&P 500 blended in as a benchmark.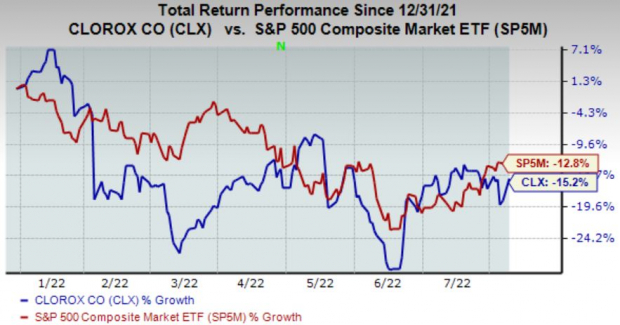 Image Source: Zacks Investment Research
The company has landed itself into a Zacks Rank #5 (Strong Sell) and carries an overall VGM Score of a D – a pairing that one never wants to see.
Let's take a closer view of why the company has found itself in such an unfavorable ranking.

Growth Estimates
Analysts have extensively dialed back their earnings outlook over the last 60 days, a big reason why the company is a Zacks Rank #5 (Strong Sell).

Image Source: Zacks Investment Research
In addition, the Zacks Consensus EPS Estimate of $0.93 for the upcoming quarter reflects a disheartening 23% drop in earnings year-over-year. Pivoting to the top-line, the quarterly revenue projection for the upcoming print of $1.8 billion pencils in a 2% year-over-year decrease.
Below is a chart illustrating the company's revenue on a quarterly basis.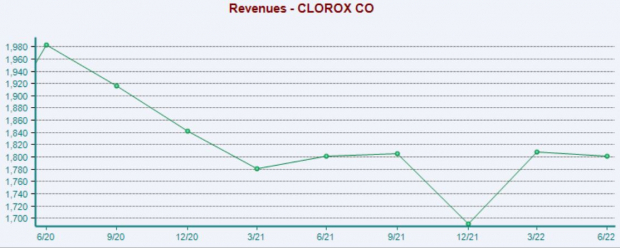 Image Source: Zacks Investment Research

Valuation
Clorox shares trade at high valuation multiples, and the company carries a Style Score of an F for Value.
The company's forward earnings multiple resides at a steep 33.8X, well above its five-year median of 24.9X, and representing a rich 65% premium relative to its Zacks Consumer Staples Sector.

Image Source: Zacks Investment Research

Quarterly Performance
Bottom-line results have left much to be desired as of late, with the company reporting quarterly EPS below the Zacks Consensus EPS Estimate in two of its previous three quarters. Just in its latest quarter, Clorox penciled in a 2.1% bottom-line miss.

Bottom Line
Clorox shares have been the victim of a deep double-digit valuation slash year-to-date, with sellers remaining in complete control. This adverse price action, paired with overwhelmingly negative estimate revisions, paints a grim picture for the company in the short term.
The company is a Zacks Rank #5 (Strong Sell) and a stock that investors will be better off staying away from for now.
Instead, investors should pivot to stocks that either carry a Zacks Rank #1 (Strong Buy) or Zacks Rank #2 (Buy) – the odds of reaping considerable gains are much higher within the companies that carry these ranks.
---
More By This Author:
Tyson Foods Q3 Earnings And Revenues Surpass Estimates
3 Blue-Chip Stocks With Rock-Solid Dividends
Alibaba Q1 Earnings Beat Estimates, Revenues Fall Y/Y
Disclaimer: Neither Zacks Investment Research, Inc. nor its Information Providers can guarantee the accuracy, completeness, timeliness, or correct sequencing of any of the Information on the Web ...
more