Bear Of The Day: Papa John's International
Papa John's International (PZZA) is a pizza delivery powerhouse that's facing tough-to-compete against periods, a growing assortment of food delivery options, and other headwinds.
Possible Pizza Fatigue?
Papa John's is the world's third-largest pizza delivery company with over 5,500 restaurants in roughly 50 countries and territories. Papa John's competes against Domino's Pizza (DPZ) , other local chains, and higher-end places in the take-out pizza market.
Papa John's and other companies benefited from the stay-at-home covid boost over the last few years, as well as a willingness from consumers to eat out during a period of economic growth and positivity.
PZZA's earnings revisions have been trending in the wrong direction lately amid a shifting economic and consumer spending landscape. Papa John's executive team last quarter pointed to higher labor costs and commodity prices as a reason for its subdued outlook, alongside lower international sales, specifically "softening economic conditions in the UK."
(Click on image to enlarge)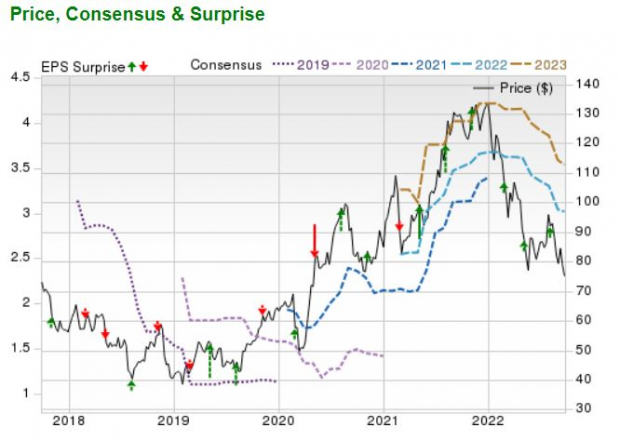 Image Source: Zacks Investment Research
The pizza maker's FY22 and FY23 consensus estimates have dropped 6% and 7.5%, respectively over the last 60 days and slightly more if we go back a bit farther. Zacks estimates call for PZZA's 2022 revenue to climb by 2% and then pop around 5% in FY23. These estimates follow 14% revenue growth last year and 12% in FY20.
Papa John's is projected to see its adjusted earnings slip by 15% in 2022 to $2.99 per share, before bouncing back to just under its FY21 total next year. The company's overall downward earnings estimate revisions help it land a Zacks Rank #5 (Strong Sell) at the moment.
Bottom Line
Papa John's shares have fallen over 40% in 2022 even as its broader industry dropped just 14%. PZZA's 2022 tumble roughly matches its rival Domino's, with Papa John's now down 9% over the last two years and DPZ 22% lower.
Wall Street appears worried about the possibility of pizza delivery fatigue and the sustained challenges from many other restaurants who have found success through food delivery apps such as Uber Eats (UBER) . All told, investors might want to stay away from Papa John's stock right now amid slowing consumer spending, high inflation, and growing non-pizza competition in the at-home delivery industry.
---
More By This Author:
Top Tech Stocks To Buy In October And Hold For Long-Term Growth
Bear of the Day: Toll Brothers, Inc.
Bull of the Day: Huron
Disclaimer: Neither Zacks Investment Research, Inc. nor its Information Providers can guarantee the accuracy, completeness, timeliness, or correct sequencing of any of the Information on the Web ...
more