Bear Of The Day: JELD-WEN Holding, Inc.
JELD-WEN (JELD) designs, manufactures, and sells doors and windows primarily in North America, Europe, and Australasia. JELD offers a line of residential interior and exterior products including patio doors, wood and vinyl windows, and sliding wall systems. The company also offers ancillary products and services such as shower enclosures, wardrobes, moldings, trim boards, lumber, and hardware and lock installation.
JELD markets its products under the JELD-WEN, Swedoor, DANA, Corinthian, Stebar, LaCantina, VPI and Breezway brands. It serves wholesale distributors and retailers as well as individual contractors and consumers. JELD-WEN Holding was founded in 1960 and is based in Charlotte, NC.
The Zacks Rundown
JELD has been severely underperforming the market over the past year. A Zacks Rank #5 (Strong Sell) stock, JELD peaked in April of last year – well before the major indices. The stock has been in a price downtrend ever since and is hitting a series of 52-week lows. JELD represents a compelling short opportunity as the market continues its volatile start to the year.
JELD-WEN is part of the Zacks Building Products – Wood industry group, which currently ranks in the bottom 31% out of approximately 250 industries. Because this industry is ranked in the bottom half of all Zacks Ranked Industries, we expect it to underperform the market over the next 3 to 6 months. Candidates in the bottom half of industry groups can often represent solid potential short candidates. While individual stocks have the ability to outperform even when included in poor-performing industries, their industry association serves as a headwind for any potential rallies.
As we can see below, this industry is down nearly 36% this year, widely underperforming the market:
(Click on image to enlarge)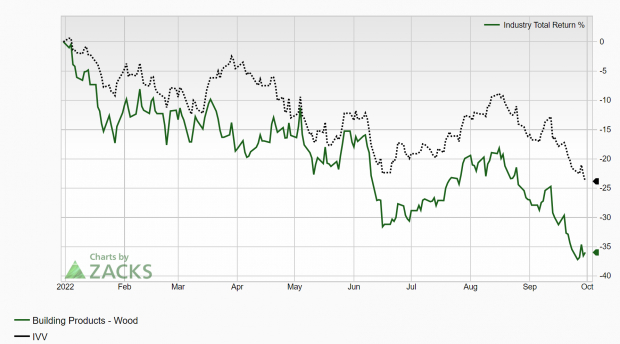 Image Source: Zacks Investment Research
Weak Foundation: Falling Short on Earnings and Deteriorating Forecasts
Earnings misses have been a sore spot for JELD during the past year. The window and door manufacturer has fallen short of estimates in three of the past four quarters. JELD most recently reported Q2 EPS back in August of $0.57/share, missing the $0.69 consensus estimate by -17.39%. Revenues of $1.33 billion also missed the mark by -2.08%. These are the types of negative trends that the bears like to see.
JELD has posted an average earnings miss of -14.75% over the past four quarters. Analysts have been revising earnings estimates downward as of late. For the year, analysts have reduced their EPS estimate by -10.75% in the past 60 days. The 2022 Zacks Consensus EPS Estimate is now $1.66/share, reflecting a -7.78% decline compared to last year.
(Click on image to enlarge)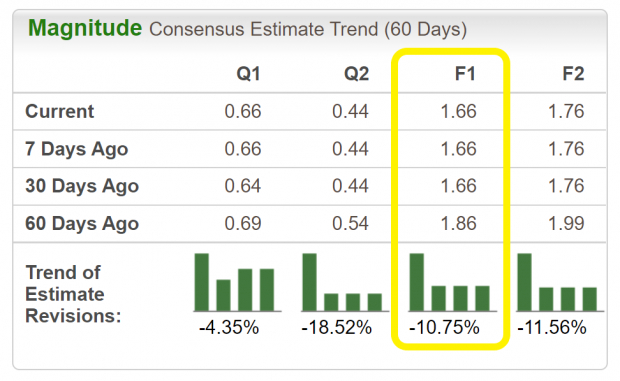 Image Source: Zacks Investment Research
Technical Outlook
JELD stock has been steadily falling since last year and has now established a well-defined downtrend. Notice how both the 50-day (blue line) and 100-day (red line) moving averages are sloping down. Shares have declined more than 64% in the past year. The stock continues to trade below both averages, while the averages have acted as steady resistance throughout the down move:
(Click on image to enlarge)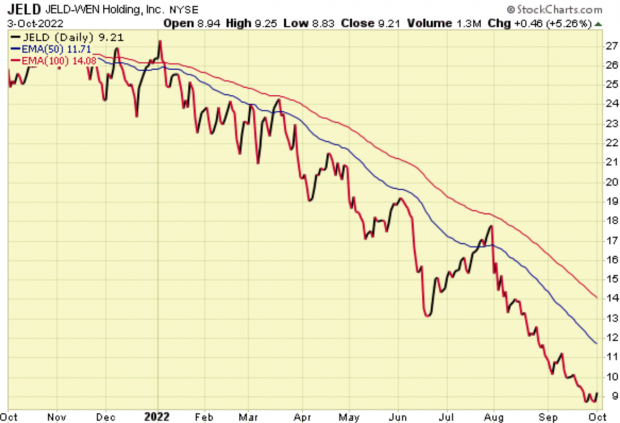 Image Source: StockCharts
Final Thoughts
The recent earnings misses in addition to deteriorating estimates are both huge red flags and need to be respected. These will likely serve as a ceiling to any potential rallies, nurturing the stock's downtrend.
JELD's characteristics have resulted in a Zacks Growth Style Score of 'C', indicating further downside is likely. The fact that this company is included in a bottom-performing industry group simply adds to the growing list of concerns. Investors will want to steer clear of JELD until the situation shows major signs of improvement, or possibly include it as part of a hedge or short strategy.
---
More By This Author:
Bull of the Day: Dillard's, Inc. (DDS)
Best Buy Gains But Lags Market: What You Should Know
Don't Panic, And Look To These 2 Big Tech Stocks After The Selloff
Disclosure: Zacks.com contains statements and statistics that have been obtained from sources believed to be reliable but are not guaranteed as to accuracy or completeness. References to any specific ...
more