Bear Of The Day: Intuitive Surgical (ISRG)
Intuitive Surgical, Inc. (ISRG - Free Report) is weathering the coronavirus outbreaks, which continue to impact its business. However, this Zacks Rank #5 (Strong Sell) is now expected to see earnings decline in 2022 from 2021.
Intuitive Surgical is the leader in robotic-assisted, minimally invasive surgery. It manufactures and markets the da Vinci surgical system worldwide.
Another Beat in Q4 2021
On Jan 20, Intuitive Surgical reported its fourth-quarter 2021 results and beat the Zacks Consensus by $0.02. Earnings were $1.30 versus the Zacks Consensus of $1.28.
It was the 11th earnings beat in a row. Intuitive Surgical's last earnings miss was in 2019, before the pandemic.
Worldwide da Vinci procedures rose about 19% compared with the fourth quarter of 2020, driven by growth in the US general surgery procedures and growth in OUS markets.
The compound annual growth rate between the fourth quarter of 2019, or pre-pandemic, and the fourth quarter of 2021, was about 13%.
It shipped 385 da Vinci Surgical Systems, up 18% from the year-ago fourth quarter. Both quarters were impacted by COVID outbreaks.
Fourth-quarter revenue jumped 17% to $1.55 billion from $1.33 billion. The compound annual growth rate between Q4 2019 and Q4 2021 was about 10%.
Intuitive Surgical ended the fourth quarter of 2021 with $8.6 billion in cash, cash equivalents, and investments, an increase of $400 million during the quarter.
Analysts Cut 2022 Estimates
The analysts, however, were not impressed when looking forward to 2022.
Intuitive Surgical said that COVID outbreaks continue to impact their business, at different times and ways, globally.
6 estimates were lowered in the last 30 days for 2022 which pushed the Zacks Consensus Estimate down to $4.87 from $5.51.
That's an earnings decline of 1.8% as Intuitive Surgical made $4.96 last year.
You can see the earnings cuts on the price and consensus chart.
(Click on image to enlarge)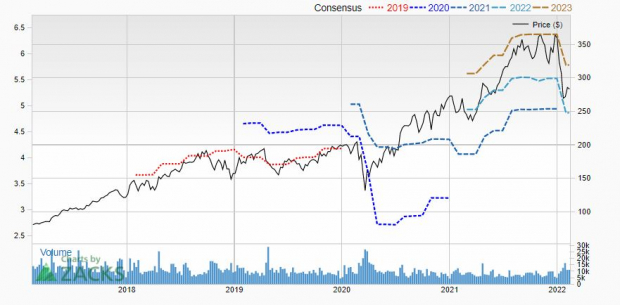 Image Source: Zacks Investment Research
These estimate cuts are the reason that Intuitive Surgical is a Zacks Strong Sell. No analysts raised earnings estimates for 2022. They were only cutting.
Therefore, the analysts are in agreement and the earnings consensus fell. That's when you will get a Strong Sell rank.
Shares Sell-Off in 2022
Intuitive Surgical has been a big winner for many investors over the years. Shares are up 250% in the last 5 years, easily beating the S&P 500 which has gained 88% during that time.
But like a lot of growth stocks, the shares have taken a dive in 2022.
Intuitive Surgical shares are down 22% year-to-date.
(Click on image to enlarge)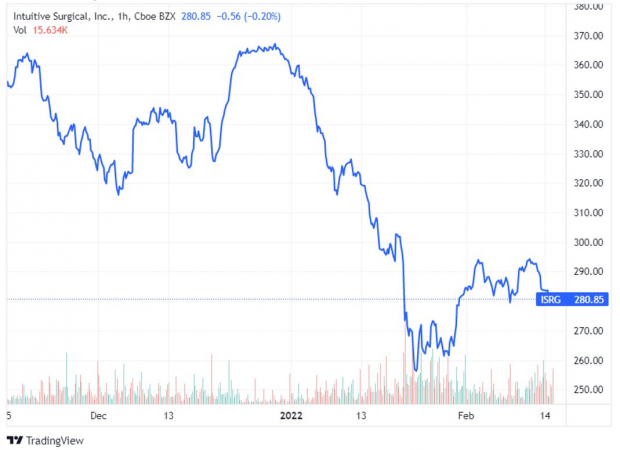 Image Source: Zacks Investment Research
Yet, they aren't cheap. Intuitive Surgical trades with a forward P/E of 58.
While earnings are expected to decline in 2022, analysts see a rebound in 2023, with earnings growing 18%.
Those investors who have been waiting on the sidelines on Intuitive Surgical might want to put it on their wish list for when the earnings estimates improve and/or it gets a lot cheaper on a fundamental basis.
Disclaimer: Zacks.com contains statements and statistics that have been obtained from sources believed to be reliable but are not guaranteed as to accuracy or completeness. References to any ...
more