Bear Of The Day: Garmin Ltd.
Garmin Ltd. (GRMN - Free Report) is likely best-known for its consumer-centric GPS systems. Garmin is much more than that, selling advanced radars for airplanes and beyond. Still, the company faces tough-to-compete against periods, and GRMN provided downbeat guidance on July 27.

GPS & Radars Galore
Garmin has been at the cutting-edge of the modern consumer-focused GPS movement for years. The firm's in-car navigation systems, fitness wearables, smartwatches, and more are staples in our connected world.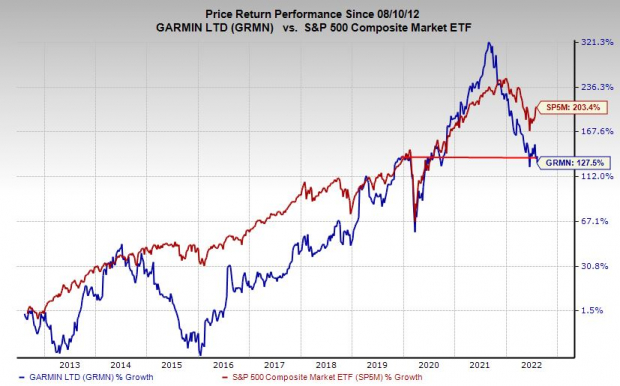 Image Source: Zacks Investment Research
Along with its everyday consumer electronics, Garmin sells high-end fish finders, advanced radars and systems for boats and airplanes, and even sci-fi-sounding tech for flying taxis. Its diverse and compelling offerings have helped GRMN post-six-straight years of revenue growth, with double-digit expansion in the trailing three years.
Garmin's revenue climbed 19% in 2021 for its best showing in over a decade. But Garmin's second quarter sales slipped 6.5% from the year-ago period and its earnings outlook has turned far worse since its Q2 financial release on July 27.
GRMN lowered its guidance, with its FY22 and FY23 consensus EPS estimates down 13% and 15%, respectively over the past few months. And its most accurate/most recent EPS estimates are even lower. "Markets continue to normalize following two years of pandemic-driven growth, and we also face additional headwinds including the relentless strengthening of the U.S. Dollar, high inflation, and rising interest rates," CEO Cliff Pemble said in prepared remarks.

Bottom Line
Garmin's long-term outlook likely remains firmly intact, but its downward earnings revisions help it grab a Zacks Rank #5 (Strong Sell) at the moment. GRMN's industry is also currently in the bottom 23% of over 250 Zacks industries.
Garmin stock tumbled roughly 42% from its August 2021 records, with it down 7% over the past 24 months. The selling recalibrated its valuation in a big way, trading at 18.4X forward earnings vs. its 28.9X highs and decade-long median of 19.1X. And its 3% dividend yield is a nice bonus.
All that said, investors with near-term outlooks might want to navigate in a different direction for now, even if they decide to keep Garmin on their radar.
---
More By This Author:
Is Netflix A Value Stock Ahead Of Earnings?
Bull Of The Day: Sysco Corporation
Bear Of The Day: Best Buy Co., Inc.
Disclaimer: Neither Zacks Investment Research, Inc. nor its Information Providers can guarantee the accuracy, completeness, timeliness, or correct sequencing of any of the Information on the Web ...
more