Bear Of The Day: Biogen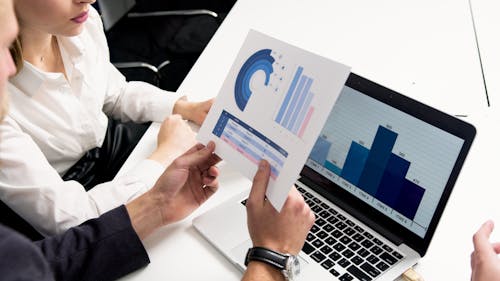 Image Source: Pexels
In early February, Biogen (BIIB - Free Report) reported Q4 2021 earnings per share of $3.39, which slightly beat the Zacks Consensus Estimate of $3.32. In the year-ago quarter, Biogen had recorded a loss of $1.05 per share.
Sales came in at $2.73 billion, down 4% from the year-ago quarter, hurt by lower sales of Tecfidera and Spinraza. Sales, however, beat the Zacks Consensus Estimate of $2.62 billion.
Product sales in the quarter were $2.19 billion, down almost 5% year over year. Royalties on sales of Roche's Ocrevus were $261.2 million in the quarter, down 29% year over year. Biogen receives royalties on U.S. sales of Roche's MS drug, Ocrevus.
Revenues from Biogen's share of Roche's drugs, Rituxan and Gazyva declined 29.4% from the year-ago period to $152.9 million due to biosimilar competition. Other revenues declined 4.4% in the quarter to $126.2 million.
Outlook and Estimate Revisions
The company also offered subdued guidance due to generic sales hitting its key MS franchise Tecfidera, whose sales declined almost 20% to $486.5 million in the quarter as multiple generic products have been launched in the United States.
Since this report, Wall Street analyst have been busy taking down earnings estimates for the $30 billion drug maker. The Zacks EPS consensus for this year has dropped over 17% from $18.78 to $15.52.
And next year's estimates were slashed 20% from $20.32 to $16.17.
The Big Uncertainties
Biogen's MS revenues were $1.79 billion in the reporter quarter, including Ocrevus royalties, which declined 1% (both actual and constant currency basis) year over year.
Biogen is having a tough time as multiple generic versions of blockbuster drug, Tecfidera have been launched, which are significantly eroding the drug's sales. Spinraza's sales are being hurt by the negative impact of COVID-19 and a lower rate of new patient starts due to increased competition.
And while hopes have been high for the only drug approved to treat Alzheimer's Disease, the launch of Aducanumab, sold under the brand name Aduhelm, has been underwhelming. It is an amyloid beta-directed monoclonal antibody that targets aggregated forms of amyloid beta found in the brains of people with Alzheimer's disease to reduce its buildup.
Though Biogen believes in Aduhelm's long-term potential, its launch has been slow due to limited patient access amid a lack of clarity on Aduhelm reimbursement. Biogen expects minimal Aduhelm revenues in 2022 due to the uncertainty around reimbursement.
Rest of the Commercial Arsenal
New drug Vumerity recorded $124.9 million in sales, higher than $120.9 million in the previous quarter.
Tysabri sales rose 7.9% year over year to $512.7 million.
Combined interferon revenues (Avonex and Plegridy) in the quarter were $377.7 million, down 17.2% year over year.
Sales of spinal muscular atrophy (SMA) drug Spinraza declined 12% (10% on a constant currency basis) year over year to $441 million.
In the quarter, biosimilars revenues rose 12% year over year (13% in constant currency) to $221 million.
Biogen markets three anti-TNF biosimilars in Europe — Flixabi (a biosimilar referencing Remicade), Benepali (a biosimilar referencing Enbrel), and Imraldi (a biosimilar referencing Humira) through Samsung Bioepis, the joint venture with its South Korean partner, Samsung Biologics. Last month, Biogen announced an agreement with Samsung Biologics to sell its equity stake in Samsung Bioepis for a payment of up to $2.3 billion. With the acquisition of Biogen's 49.9% stake in Samsung Bioepis, Samsung Biologics will have full ownership of the joint venture.
New Alzheimer's drug, Aduhelm, approved in June 2021, recorded sales of $1.0 million in the fourth quarter, compared to $0.3 million in the previous quarter. The launch of the drug has been slow as patient access is limited and Biogen generated only $3 million in sales in 2021.
In January 2022, the Centers for Medicare & Medicaid Services (CMS) released a proposed National Coverage Determination (NCD) decision for the class of anti-amyloid antibodies like Aduhelm. Per the NDC, Medicare proposes covering FDA-approved drugs like Aduhelm only for patients enrolled in qualifying clinical studies. The final decision is expected in April. If the draft decision is approved finally in April, it will restrict patient access to Aduhelm and hurt sales of the drug in 2022 as well. However, the final decision could vary from the draft ruling.
In December 2021, Biogen lowered the wholesale acquisition cost (WAC) of Aduhelm by approximately 50% effective Jan 1, 2022, expecting the demand to improve as a result.
Research and development (R&D) expenses were $700 million, down 59% year over year. Selling, general, and administrative (SG&A) expenses declined 2.2% year over year to $785 million.
Recent Analyst Moves
Biogen's price target lowered to $225 from $230 at BofA.
Last week, Bank of American analyst Geoff Meacham lowered the firm's price target on Biogen to $225 from $230 and kept a Neutral rating on the shares following Eisai's (ESALY) recent decision to amend the companies' Alzheimer's collaboration, which he said: "was a surprise to the market" before CMS' final NCD decision due on April 11.
After revising his model to reflect the update and Eisai willing to forgo its share of Aduhelm's profits in exchange for decommitting from further investments, and also using a decision-tree analysis, he derives a present value of $170M for Aduhelm, but notes that assuming the final NCD resembles the draft his model of the value of Aduhelm would fall to negative $67M. Meacham's updated model also adds lecanemab with a 40% estimate for its odds of success.
Bottom line on BIIB: This key innovator is a must-own for large-cap Biotech portfolios. And it is probably fairly valued near $200. So buying on dips isn't a bad strategy. But it's best to wait until the EPS stop going down and stabilize. The Zacks Rank will let you know.
Kevin Cook is a Senior Stock Strategist for Zacks Investment Research where he runs the TAZR Trader and more