Bear Of The Day: Applied Materials (AMAT)
Applied Materials (AMAT) shares have tumbled around 50% from their mid-January peaks. The semiconductor equipment firm is suffering as the historically cyclical chip industry faces a slowdown amid a global economic downturn.
Applied Materials on October 12 was also forced to lower its outlook following the U.S. government's new export regulations for U.S. semiconductor technologies sold in China.
Recent Setbacks
Applied Materials is a leading semiconductor equipment maker. The firm boasts that its solutions are "used to produce virtually every new chip and advanced display in the world." AMAT is part of the broader Zacks Semiconductor Equipment - Wafer Fabrication industry that currently sits in the bottom 5% of over 250 Zacks industries.
The supplier of equipment to make semiconductors earlier this year suffered from supply shortages. Now, it is facing broader demand headwinds that are weighing down the entire industry as consumer and business spending slows. Most recently, Applied Materials lowered its Q4 fiscal 2022 (period ending Oct. 30) outlook on the back of fresh U.S. government restrictions.
(Click on image to enlarge)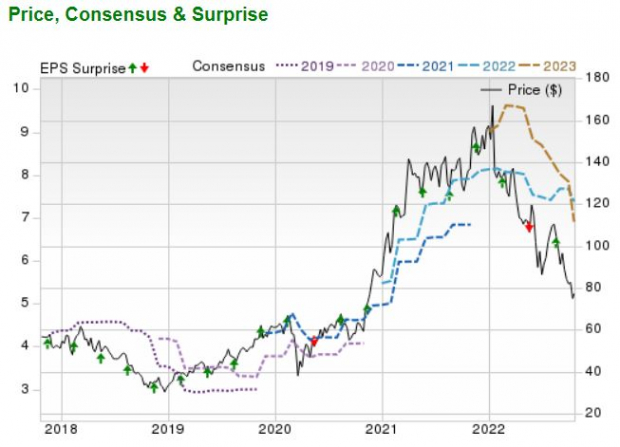 Image Source: Zacks Investment Research
The U.S. government recently rolled out export regulations for U.S. semiconductor tech sold in China. These efforts include wafer fabrication equipment and related parts and services, which is Applied Materials' core business. The firm said that the new regulations will reduce its Q4 "sales by approximately $400 million, plus or minus $150 million."
The company was also forced to reduce its adjusted earnings guidance to between $1.54 and $1.78 per share down from $1.82 to $2.18 a share. Applied Materials said in a statement that it is "pursuing additional export licenses and authorizations where needed" and that it "expects the new regulations will impact net sales in the first quarter of fiscal 2023 by a similar amount as in the current quarter."
Bottom Line
Analysts raced to lower their guidance for Q4 and FY23 earnings estimates after the China news, with its downbeat EPS revisions helping it land a Zacks Rank #5 (Strong Sell) at the moment.
Applied Materials is still projected to post over 10% higher sales in FY22 and 8% stronger adjusted earnings. The company's adjusted fiscal 2023 earnings are then projected to dip by 6% on 4% lower revenue.
Applied Materials stock popped on Friday alongside the market. Still, the uncertainty of its near-term outlook might be reason enough for caution even if its longer-term prospects remain intact.
That said, the heightened economic tensions between the U.S. and China should give even longer-term investors pause. All told, the most prudent play here might be to wait for Applied Materials to report its Q4 results in mid-November and provide additional updates on the China situation and other fresh guidance.
---
More By This Author:
Bull of the Day: Lululemon Athletica Inc.
Bear Of The Day: Nike, Inc.
Bull of the Day: DexCom, Inc. (DXCM)
Disclaimer: Neither Zacks Investment Research, Inc. nor its Information Providers can guarantee the accuracy, completeness, timeliness, or correct sequencing of any of the Information on the Web ...
more