Bear Of The Day: 3M Company
Image Source: Pixabay

3M Company (MMM - Free Report) fell short of our Q4 fiscal 2022 earnings estimates on January 24 and provided a rough outlook for 2023. The industrial conglomerate's recent setback, which has MMM shares down nearly 45% since May of 2021, is part of a larger downturn over the last five years.

3M Basics
3M is the industrial conglomerate behind the Scotch tape, Post-it notes, and tons of other supplies, parts, and equipment that range from automotive and insulation to medical supplies, personal protective equipment, and beyond. 3M posted a strong 2021, with sales up 10%. But that is outsized growth for a company that had been posting closer to 3% sales growth and some down years over the last decade.
3M benefited greatly from the covid spending boom on everything from face masks to cleaning supplies. The company attributed its fourth quarter underperformance "to rapid declines in consumer-facing markets – a dynamic that accelerated in December – along with significant slowing in China due to COVID-related disruptions."

Image Source: Zacks Investment Research
3M CEO Mike Roman said in prepared Q4 remarks that his firm expects "macroeconomic challenges to persist in 2023." The company said it is cutting roughly 2,500 global manufacturing jobs in an effort to cut costs and better "align with adjusted production volumes."
3M's overall 2022 sales fell 3% YoY to $34.2 billion, some of which were caused by a strong U.S. dollar. Meanwhile, its adjusted earnings fell 6% and its GAAP operating income margin fell from 20.8% to 19.1%.
Looking ahead, Zacks estimates call for 3M's revenue to slide 7.5% to come in below its 2020 total, with its adjusted EPS projected to slip by 10%.
3M's FY23 consensus EPS estimate is down 13% over the last few months, with FY24's 11% lower. 3M's downward earnings revisions help it land a Zacks Rank #5 (Strong Sell) right now.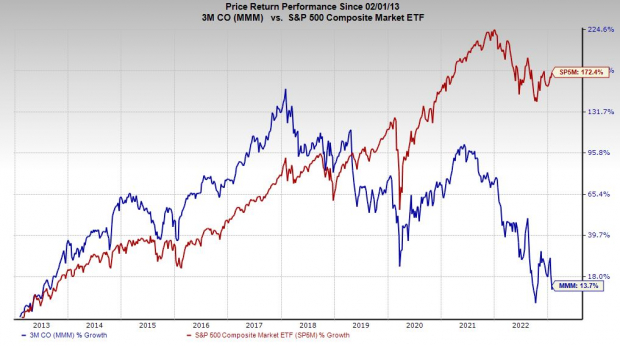 Image Source: Zacks Investment Research

Bottom Line
3M stock is now down around 55% in the last five years vs. the S&P 500's 43% climb and its Zacks Econ sector's 10% drop. 3M's Diversified Operations industry is in the bottom 17% of over 250 Zacks industries right now. Worse still, 12 of the 16 brokerage recommendations Zacks has for MMM are "Holds," alongside three "Strong Sells," one "Sell," and no buys.
Some investors might think that 3M is ripe for come bottom-feeding given its dividend yield and low P/E ratio. But Wall Street and the Zacks Rank are staying to stay away from MMM for now.
---
More By This Author:
Meta And Amazon Earnings: Time To Buy These Beaten-Down Tech Stocks?
2 Market-Crushing Value Stocks To Buy For More Growth In 2023
3 Great Stocks To Buy In 2023 And Hold Forever
Disclaimer: Neither Zacks Investment Research, Inc. nor its Information Providers can guarantee the accuracy, completeness, timeliness, or correct sequencing of any of the Information on the Web ...
more