AppLovin Stock: Here's When To Buy
AppLovin stock hit the Nasdaq on April 15. The AppLovin direct listing put up $2 billion on 25 million shares, which came to an opening price of $80 a pop.
A direct listing is when you go public directly on the exchange instead of creating new shares. This saves weeks of time and effort preparing for an IPO.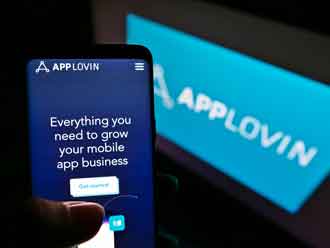 Unfortunately, AppLovin Corp. (NASDAQ: APP) shares dive-bombed quickly after that. They fell 22.5%, down to just above $60 the following day.
Clearly, there wasn't much interest at the $80 mark. Now, investors want to know where that new average will be.
Here's what to expect from this company as shares continue to change hands on the public markets and when you should think about buying it.
What Is AppLovin?
AppLovin helps people sell apps.
Making apps and getting them to market can be hard work. You need to develop it, market it, publish it, and monetize it. Well, AppLovin works with app developers to streamline all of that through its marketing platform.
Much of AppLovin's work is directed at mobile gaming apps. It operates Lion Studios, a mobile app company, and invests in a number of mobile game publishers.
This company owns a variety of mobile game studios, with more than 200 games offered.
Forty-nine percent of AppLovin's revenue in 2020 came from businesses using its software tools. Fifty-one percent came from purchases within its apps.
We know that mobile gaming promises to be a big growth industry. The industry produced $77 billion in revenue for 2020. The number of users increased by 12%, to 2.5 billion.
The total mobile apps market is worth $189 billion. AppLovin's revenue is about 1% of that.
But AppLovin's client pool stands the chance of increasing quickly over the next few years.
Mobile gaming is only going to be more involved, with better visuals, better connections with other players, and all-around better experiences.
Today, AppLovin has 410 million users. What could stop this company from taking even more of the market?
Disclaimer: Any performance results described herein are not based on actual trading of securities but are instead based on a hypothetical trading account which entered and exited the suggested ...
more