An Activist Fund Has Been Buying This Biotech
We have identified Five Prime Therapeutics (FPRX) as a potential turn-around story with upcoming pivotal data, an activist biotech fund with nearly 22% ownership, and important business decisions this year than can make this company a very large multi-bag gainer, or can break them if handled improperly. Several of the company's clinical assets. along with Bristol-Myers Squibb (BMY) with presenting 'actionable' data this year from the ongoing phase 2 study of Cabiralizumab (Cabira) and Nivolumab (Opdivo), with and without mFOLFOX (chemotherapy) in pancreatic cancer, are facing what the interim management team calls a "go or no-go" decisions.
One of the main tasks for FPRX management here is to narrow down where to best deploy resources and where capital burn can be pared back while creating shareholder value. Based on our understanding of the company's last earning's call in Nov. 2019, FPRX's direction now is to take a more measured and rational approach to capital management as opposed to the over-aggressive strategy of the previous management team.
At this price point and with multiple shots on goal, we feel that FPRX offers an excellent risk-reward proposition as a bet on a turnaround story that can net substantial return from the current valuation.
For starters, the Cabira decision to go or no go will be in great part decided by BMY, as BMY has the lead here in this asset.
In 2015, BMY made a deal with FPRX for Cabira shelling out $350 million upfront to the company, and back-ended $1.74B in potential development and regulatory milestone payments; additional double-digit royalties on future sales, and the option to co-promote in the U.S.
There will be additional more robust data from this asset to read-out this year, with data expected sometime in the 1st half of this year.
We see this asset as a potential value add-on for FPRX. It's not expected to produce good results, so most of its downside is likely already baked into the stock price, as evident from the initial data read-out in Pancreatic cancer which was disappointing, but not entirely useless.
At the time of the initial 'disappointing' read-out on Cabira, FPRX stock was trading in the mid $40 range. With the stock now trading around $5 a share, the expectations here for Cabira are low, as it's not expected to produce the type of data needed to be a needle mover. However, if better data emerges with Cabira it should help with stock price appreciation.
What is of primary interest to us and most investors is the company's Bemarituzumab (Bema, anti-FGFR2b antibody) program being developed in FGFR2 over-expressing gastric cancer. The primary endpoint for the current phase 3 study is examining chemotherapy with Bema, with the bar set for the company's planned futility analysis as Overall Survival (OS).
Informing this phase 3 was the encouraging single agent activity in heavily pre-treated gastric and gastroesophageal junction (GEJ) cancer patients (the single agent data presented at ASCO in 2017 is shown below). In short, this single agent salvage data showed an ORR of 19% (impressive within the context of a wide-open unmet need here) in patients who have high expression of FGFR2b as determined by biopsy. With a low Severe Adverse Events (SAE) rate, the company aggressively advanced this agent into a phase 1 / 3 trial in combination with mFOLFOX.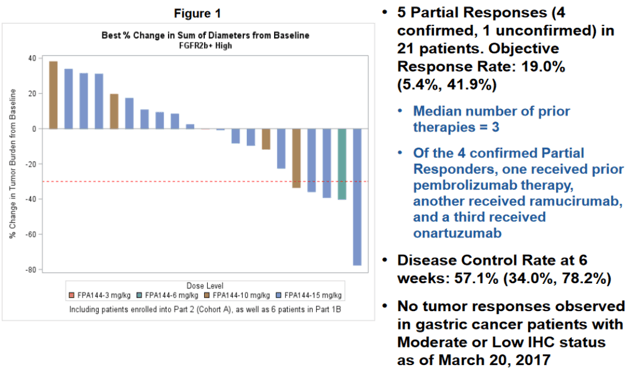 Upon following up on the mono-therapy study, the company found that achieving a trough plasma concentration of 60 μg/mL was necessary for responses. As such, dosing has been adjusted to achieve this concentration of Bemarituzumab.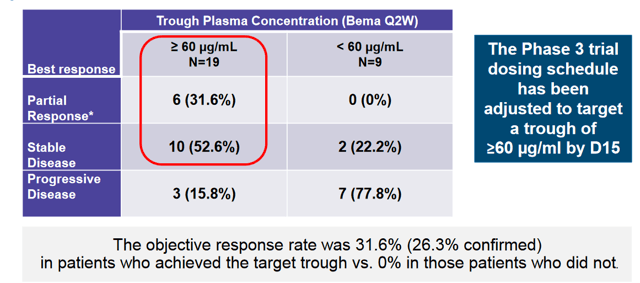 In the phase 1 portion of the phase 1 / 3 study, the combination was evaluated primarily for safety, which was deemed acceptable given the lack of dose limiting toxicities and a 3/9 SAE rate for the combination at the high dose. This was a broader enrollment population than the phase 3 which is purely looking at gastric cancers. Here also, colorectal and pancreatic patients were also involved in the study. The safety profile is summarized below. Though the study was not geared to look at efficacy, 2 PRs were observed in the enrolled patients;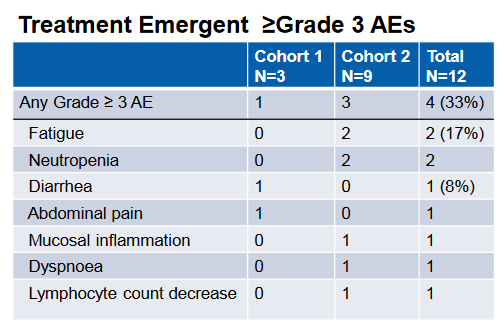 According to the original phase 3 study design, the initial goal of 548 patients was estimated to have 80% power to detect an OS HR of 0.75 in favor of the Bema + chemotherapy arm. One possible positive outcome here is that when analysis is done at the interim cutoff, it is determined that less patients will be needed to achieve a statistically significant signal.
Disclosure: I am/we are long FPRX.
This article/video is intended for informational and entertainment use only, and should not be construed as professional investment advice. They ...
more