AMD Analysts Confident Of Continued Share Gains, Execution Following Chipmaker's Q1 Beat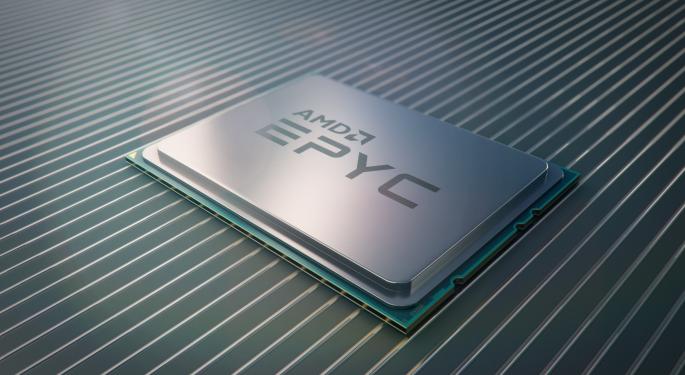 Advanced Micro Devices, Inc. AMD reported Tuesday with strong quarterly results and lifted its full-year guidance.
The AMD Analysts: BofA Securities analyst Vivek Arya reiterated a Buy rating on AMD shares and increased the price target from $100 to $110. The analyst named the stock as the firm's top computing pick.
Oppenheimer analyst Rick Schafer maintained a Perform rating.
Mizuho Securities analyst Vijay Rakesh reiterated a Buy rating and hiked the price target from $105 to $107.
Jefferies analyst Mark Lipacis maintained a Buy rating and $110 price target.
Rosenblatt Securities analyst Hans Mosesmann reiterated a Buy rating and $135 price target.
Raymond James analyst Chris Caso reiterated an Outperform rating and increased the price target from $100 to $110.
BofA Says AMD On Track For Long-Term Earnings Power: BofA now sees a path to over $4 in long-term earnings per share, premised on 25%-plus market share in a growing $70 billion-plus computing market, Arya said in a Wednesday note.
AMD's stellar performance came despite industrywide supply constraints and competition from rival Intel, Inc's INTC Ice Lake server processor, the analyst said.
He highlighted improving supply for AMD due to its close relationship with supply partners; new product ramps, including Milan server processors, Ryzen 5000 mobile processors, and Radeon 6000 GPUs; and share gains.
BofA estimates that AMD's market share of CPU will increase from 14% in the first quarter to 15% in 2021, with gains of over 300 basis points, annually over the next three years.
Some of the risks for AMD are tough comparisons in 2022 and beyond and heightened competition from Intel and new Arm entrants, Arya said.
AMD's Execution Encouraging, Oppenheimer Says: The strong growth of AMD's Computing & Graphics segment underlines PC market share gains, with particular strength in high-end, ultra-thin, commercial and gaming notebooks, Schafer said.
© 2021 Benzinga.com. Benzinga does not provide investment advice. All rights reserved.