Amazon's Blowout Quarter: It Is Not Too Late To Buy
Amazon (AMZN) delivered spectacular earnings last week, and the numbers propelled the stock to near-record highs, at $3164 per share. This kind of performance always generates some mixed reactions among investors when it comes to analyzing a position in Amazon at current prices.
The company clearly is firing on all cylinders, but many investors consider that it is already too late to jump on the Amazon train at these levels. A healthy dose of skepticism is always a good approach. However, staying away from Amazon only because it has appreciated strongly in recent months can be an expensive mistake.
Past performance and valuation can be remarkably different things; when the fundamentals are moving in the right direction, a rising stock price does not mean that the stock is overvalued at all. Amazon is one of the strongest companies in the world, and the stock still has what it takes to continue delivering solid returns for shareholders in the years ahead.
Price Is Not Valuation
Amazon has delivered amazing returns for investors over the long term, and recent gains have accelerated, with the stock rising by almost 70% in the past year. Enormous returns, combined with the fact that the stock price is unusually elevated at above $3100, can give the impression that the stock is already too expensive to consider buying.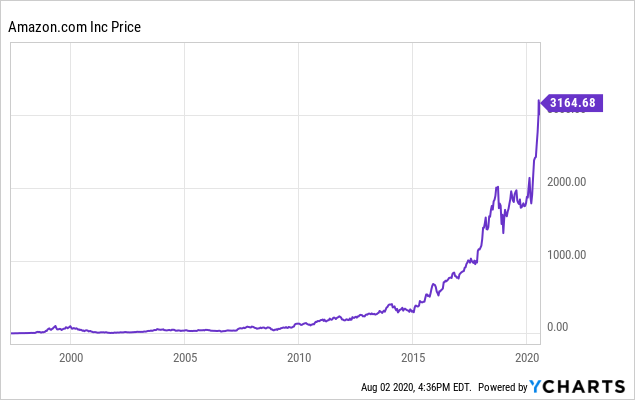 Data by YCharts
Traditional valuation metrics provide the same impression. Amazon is currently trading at a forward P/E ratio above 73 times earnings estimates for next year, which obviously looks like a very demanding price tag, even for a high-quality stock.
However, past returns do not reflect forward-looking valuation, and the price to earnings ratio is hardly the best indicator to use for a high-growth company such as Amazon.
Investors with a basic understanding of finance and valuation obviously know that the stock price itself does not tell us anything about the valuation. Valuation is about comparing the company's future earnings and cash flows versus the current stock price, as opposed to assessing the evolution of the stock price alone.
Disclosure: I am/we are long AMZN, FB, GOOG.
I wrote this article myself, and it expresses my own opinions. I am not receiving compensation for it. I have no ...
more