Airline Stock Roundup: Southwest Airlines Tapers Q3 Revenue View, Copa Holdings Posts Rosy August Traffic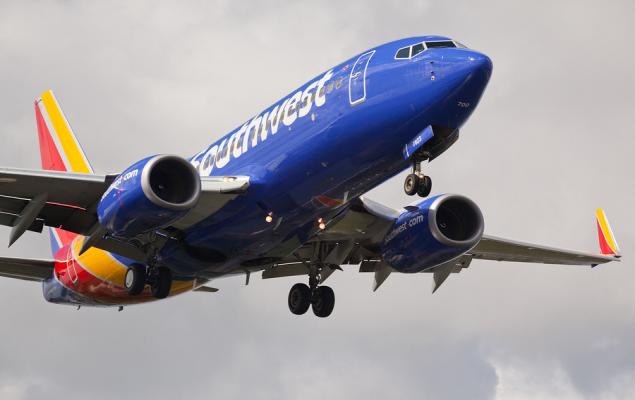 Image: Bigstock
In the past week, Southwest Airlines (LUV - Free Report) narrowed the range of its revenue guidance for the third quarter of 2022 due to softer-than-expected business travel. Copa Holdings (CPA - Free Report) reported an increase in traffic for August 2022 from the August 2019 level, owing to upbeat air-travel demand in Latin America.
The August traffic report of another Latin American carrier, Azul (AZUL - Free Report), was strong as well, reflecting the rosy booking environment. United Airlines (UAL - Free Report) and gulf carrier Emirates entered into an agreement to boost connectivity and improve market share. Read the last Airline Roundup here.

Recap of the Latest Top Stories
For the third quarter of 2022, Southwest Airlines expects operating revenues to increase 9-11% from the comparable period in 2019. Previously, LUV expects the same to rise 8-12% The narrower guidance range comes despite the stronger-than-expected demand for leisure travel.
The weakness in business travel is reflected by the fact that managed business revenues declined roughly 26% and 32% in July and August from comparable 2019 levels. As a result, LUV, currently carrying a Zacks Rank #3 (Hold), now expects third quarter 2022 managed business revenues to decline in the 26-28% band, compared with the previous 17-21% range.
Southwest Airlines still anticipates capacity, measured in available seat miles (ASMs), to be flat in the September quarter. Management maintains its expectation for cost per available seat mile (CASM), excluding fuel, to increase 12-15% in the current quarter from the comparable period's level in 2019.
Southwest Airlines still expects economic fuel costs per gallon to be $3.25-$3.35 in the third quarter. The estimate for interest expense has now been reduced to $85 million by $5 million.
In August 2022, Copa Holdings' traffic, measured in revenue passenger miles (RPMs), increased 2% to 1.85 billion from the comparable period's level in 2019. Increased passenger volume led to this upside.
Owing to upbeat demand, capacity — measured in available seat miles — inched up 0.4% from the 2019 level to 2.13 billion. With traffic growth outpacing capacity expansion, load factor (the percentage of seats filled by passengers) improved 140 basis points (bps) to 86.6% in the same month.
In August, Azul's consolidated traffic rose 21.5% year-over-year. To match the increased demand situation, AZUL is expanding its capacity. In the same period, capacity grew 16.5% year-over-year. Since traffic growth was more than capacity expansion, the load factor improved 3.4 percentage points (p.p) to 81.3% last month.
In August, domestic traffic and capacity improved 4.3% and 2.7%, respectively. Per Azul's CEO John Rodgerson, ""In August we saw, once again, a robust demand environment in Azul's network. Booking trends remain strong and average fares continue to be well above 2019 levels and we expect this revenue momentum to continue".
In a customer-friendly move, United Airlines inked a deal with Emirates. The deal ensures easy customer access to hundreds of destinations within the United States and across the globe. From March 2023, UAL will introduce a direct flight between Newark/New York and Dubai.
From Dubai, passengers can fly on Emirates or its sister airline Flydubai to 100+ cities. From November 2022, customers of Emirates flying into Chicago, San Francisco, and Houston will have access to nearly 200 cities in the United States, belonging to UAL's network.

Performance
The following table shows the price movement of the major airline players over the past week and during the last six months.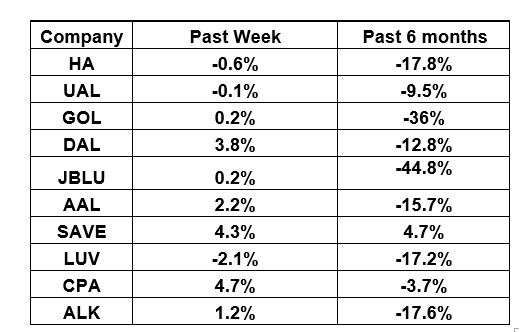 Image Source: Zacks Investment Research
The table above shows that most airline stocks have traded in the green over the past week. However, the gains were muted in nature. The NYSE ARCA Airline Index has been flat at $60.27. Over the past six months, the NYSE ARCA Airline Index has dropped 19.5%.

What's Next in the Airline Space?
Stay tuned for usual news updates on this space.
---
More By This Author:
4 Large-Cap Technology Stocks To Diversify Your Portfolio
Bull Of The Day: Albemarle
Bear of the Day: Noodles and Co