Airline Stock Roundup: Ryanair's Solid July Traffic, Copa's Q2 Earnings Beat & More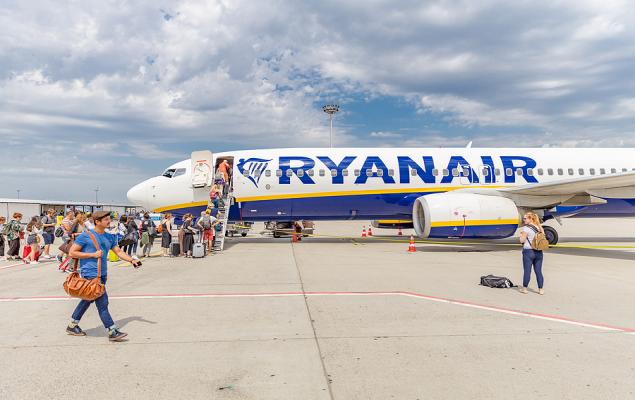 Image: Bigstock
In the past week, Ryanair Holdings (RYAAY - Free Report) posted upbeat traffic data for the month of July, driven by the buoyant air-travel demand scenario. Latin-American carrier, Gol Linhas (GOL - Free Report) also reported July traffic numbers. Load factor (the percentage of seats filled by passengers) declined at Gol with capacity growth outpacing traffic increase.
Another Latin American carrier Copa Holdings (CPA - Free Report) reported better-than-expected earnings per share for second-quarter 2022, driven by higher revenues. With the earnings season in full swing, second-quarter results of many airline companies were reported in detail in the previous week's write up.

Recap of the Latest Top Stories
In July, RYAAY flew 16.8 million passengers, the highest ever traffic volume at RYAAY in month of July. Last July, only 9.3 million passengers were transported by RYAAY. Load factor increased to 96% from 80% in July 2021. The number of passengers attracted by RYAAY in July 2022 was 14.2% higher than the 14.8 million passengers flown in July 2019 (pre-coronavirus era).
July performance was recorded despite some of Ryanair's cabin crew staff in certain European countries being on strike. RYAAY operated more than 92,000 flights in July. The stock currently carries a Zacks Rank #3 (Hold). You can see the complete list of today's Zacks #1 Rank (Strong Buy) stocks here.
In July, Gol Linhas' consolidated traffic increased 36.3% year-over-year. To match the increased demand situation, GOL is expanding its capacity. In the same month, capacity grew 42.6% year-over-year. Since traffic growth was less than capacity expansion, load factor declined 3.7 percentage points (p.p) to 80.8% last month.
Upbeat traffic in its domestic markets is leading to a rosy scenario on a consolidated basis. In July, domestic traffic and capacity improved 24.1% and 31%, respectively. On the domestic front, 29.9% more passengers boarded GOL's flights in July 2022.
Copa Holdings reported second-quarter 2022 earnings (excluding $2.69 from non-recurring items) of 32 cents per share, which surpassed the Zacks Consensus Estimate of 27 cents.
In the year-ago quarter, CPA had incurred a loss of 38 cents per share due to coronavirus-led depressed air-travel demand. Quarterly revenues of $693.4 million beat the Zacks Consensus Estimate of $674.5 million and rose significantly year-over-year, courtesy of improved air-travel demand.
Below, we present all comparisons (in percentage terms) with second-quarter 2019 levels (pre-coronavirus).
Passenger revenues (contributed 94.7% to the top line) increased 5.9% owing to higher yields (up 10.1%). Cargo and mail revenues jumped 62.4% to $26.7 million, owing to higher cargo volumes and yields. Total revenues improved 20% in the reported quarter. On a consolidated basis, traffic (measured in revenue passenger miles or RPMs) fell 3.8%.
As the traffic decline was more than the amount of capacity contraction (3.4%), load factor contracted 0.4 percentage points to 84.8% in the reported quarter. Passenger revenue per available seat miles increased 9.6% to 11 cents.
Additionally, revenue per available seat mile (RASM) increased 11. 3% to 11.6 cents. Cost per available seat mile (CASM) increased 19.9%. Excluding fuel, the metric dipped 4.6%. Average fuel price per liter soared 86.1% to $4.14.
Total operating expenses increased 15.8% to $651.1 million due to the 67% increase in fuel costs. Expenses on wages, salaries, and other employee benefits fell 17.9% on reduced headcount. Sales and distribution costs increased 9.6% due to higher sales. Passenger servicing costs dropped 37%. Flight operation costs decreased 5.4%.
Copa Holdings exited the second quarter with cash and cash equivalents of $134.1 million compared with $211.08 million at the end of December 2021. Total debt, including lease liabilities, was $1.6 billion at the end of the second quarter.
CPA exited the second quarter with a consolidated fleet of 94 aircraft comprising 68 Boeing 737-800s, 17 Boeing 737 MAX 9s, and nine Boeing 737-700s. During the second quarter, the carrier took delivery of one Boeing 737 MAX 9 aircraft.
Due to escalating fuel prices, among other factors, Copa Holdings expects third-quarter operating margin in the 16-18% range. CPA expects capacity to be 6.4 billion, equivalent to 100% of the third-quarter 2019 capacity. Load factor is estimated to be around 86% in the September quarter. Fuel price is estimated to be $3.80 per gallon.
For the full year, CPA expects capacity to reach approximately 98% of the 2019 level. CASM, excluding fuel, is anticipated to be 5.9 cents in 2022.
Allegiant Travel (ALGT - Free Report) reported second-quarter 2022 loss (excluding 38 cents from non-recurring items) of 62 cents per share, which matched the Zacks Consensus Estimate. Operating revenues of $629.8 million beat the Zacks Consensus Estimate of $629.2 million and increased 33.2% on a year-over-year basis.
Passenger revenues, which accounted for the bulk (94.1%) of the top line, soared 33.5% on a year-over-year basis. The upside can be attributed to improvement in air-travel demand. Air traffic (measured in revenue passenger miles or RPMs) for scheduled service surged 33.9% in the quarter under review.
Capacity (measured in available seat miles or ASMs) also increased 8.5% year-over-year. Load factor increased 1650 basis points to 87.3% in the reported quarter, as traffic surge outweighed capacity expansion.
Operating cost per available seat miles (CASM), excluding fuel, escalated 42.2% year-over-year to 6.94 cents. Average fuel cost per gallon (scheduled) shot up in excess of 100% to $4.33 in the quarter. Total scheduled service passenger revenue per available seat miles rose 22.5% to 12.69 cents. ALGT exited the June quarter with 115 planes in its fleet. Fleet size at the end of 2022 is expected to be 124.
For third-quarter 2022, fuel cost per gallon is expected to be $3.80. Total operating revenues are likely to increase 29% from third-quarter 2019 actuals. Non-fuel unit costs are likely to increase approximately 10%. Capacity for scheduled service and total system are likely to increase 18% and 16%, respectively, from third-quarter 2019 actuals.

Performance
The following table shows the price movement of the major airline players over the past week and during the last six months.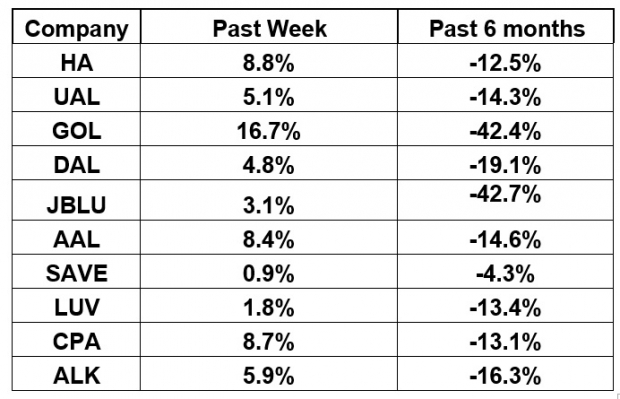 Image Source: Zacks Investment Research
The table above shows that all airline stocks have traded in the green over the past week. The NYSE ARCA Airline Index has increased 4.5% to $62.76. Over the course of the past six months, the NYSE ARCA Airline Index has plummeted 23.9%.

What's Next in the Airline Space?
Second-quarter earnings report of Latin American carrier Azul (AZUL - Free Report) is scheduled to be released on Aug. 11. Our proven model does not predict an earnings beat for AZUL this time around.
The combination of a positive Earnings ESP and a Zacks Rank #1 (Strong Buy), 2 (Buy), or 3 (Hold) increases the odds of an earnings beat. But that's not the case here. You can uncover the best stocks to buy or sell before they're reported with our Earnings ESP Filter. AZUL currently has an Earnings ESP of -33.78% and a Zacks Rank #3.
---
More By This Author:
Best Growth Stocks to Buy for August 5th, 2022
Amgen Q2 Earnings and Revenues Beat Estimates
Activision Blizzard, Inc Surpasses Q2 Earnings and Revenue Estimates
Disclaimer: Neither Zacks Investment Research, Inc. nor its Information Providers can guarantee the accuracy, completeness, timeliness, or correct sequencing of any of the Information on the Web ...
more