Airbnb: Being Greedy When Others Are Fearful
Photo by Stephen Wheeler on Unsplash
Airbnb (ABNB) is facing historical challenges over the past two years. The COVID pandemic delivered a terrible blow to travel demand, and now the war in Europe is generating a new round of challenges and uncertainties on a global scale. These factors are obviously weighing on the stock price.
But the business is not the stock price. Airbnb delivered excellent numbers in Q4 of 2021, and management has proven an exceptional ability to navigate through challenging times during the pandemic. The fundamentals are evolving well in a difficult period, which speaks volumes about the quality of the business and its management team.
Due to general market negativity and the war in Ukraine, the stock has now pulled back substantially, and valuation is looking attractive at these levels.
In the short term, the stock price will keep dancing to the tune of the market. Over multiple years, however, Airbnb is well-positioned for compelling returns.
High-Level Execution In Difficult Times
Airbnb had its best Q4 in history across all financial metrics: revenue, cash flows, and earnings. The company is doing even better than in 2019.
Revenue grew 78% to $1.5 billion during the quarter. Gross Booking Value (GBV) was $11.3 Billion, up 91% year over year and surpassing 2019 levels by 32%. Airbnb had its highest 4Q adjusted EBITDA ever, reaching $333 million and generating an EBITDA margin of 22%.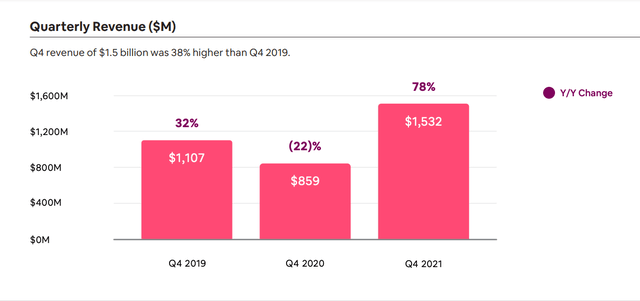 Airbnb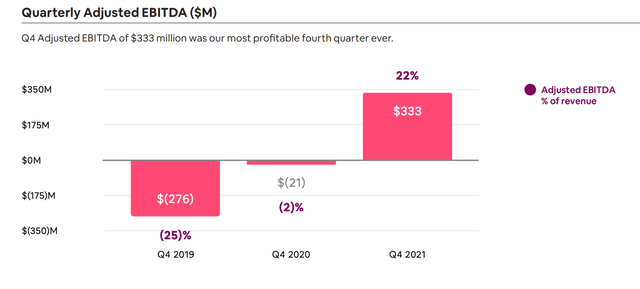 Airbnb
One major tailwind for Airbnb is the fact that remote work has allowed a lot of people to travel while they are also working. This has created plenty of opportunities for the company.
From the conference call:
Nearly two years into the pandemic, it's now clear that we are undergoing the biggest change to travel since the advent of commercial flying. Remote work has untethered many people from the need to be in an office every day. As a result, people are spreading out to thousands of towns and cities, staying for weeks, months, or even entire seasons at a time. For the first time ever, millions of people can now live anywhere.

We see this happening on Airbnb. Nearly half of our nights booked in Q4 were for stays of a week or longer. One in five nights booked were for stays of a month or longer. And in the past year alone, Airbnb guests stayed in about 100,000 towns and cities around the world, with nearly 175,000 of them booking stays for three months or longer
Guests are not just traveling on Airbnb, they're now living on Airbnb, and this opens the door to exciting growth venues in the years ahead. Management also said that they are seeing a rebound in Urban travel and cross-border travel in spite of Omicron in Q4.
Some of this improvement in demand can pull back due to the invasion of Ukraine and the uncertainty that comes with it, but travel demand on a global scale will most probably remain above the levels observed during the worst part of the pandemic.
A High-Quality Business
The network effect creates a self-sustaining virtuous cycle for Airbnb: Supply attracts demand and demand attracts supply. One of the main reasons why Airbnb has adapted so well to challenging times is that the business model is so flexible. Travelers have demanded different kinds of accommodations during the pandemic, and supply has reacted accordingly.
The business model is extremely asset-light. The company doesn't need to make heavy investments in properties, and it still has low to mid-double digits take rates on transactions. Marketing spending declined during the pandemic, yet revenue growth outperformed expectations, and profit margins expanded.
Airbnb is also expanding into experiences including unique tours, workshops, adventures, cooking classes, meditation classes, and so forth. These new experiences are unleashing a lot of creative potential from users all over the world, and they open the door for new layers of the network effect, with supply and demand attracting each other dynamically. You don't even need to travel at all if you want to book an experience near your current location.
Reasonable Valuation
The market environment has been brutal to growth stocks over the past year. It is not hard to find attractively valued growth companies in the market right now, and other companies in sectors like software and the internet businesses are arguably cheaper than Airbnb. Nevertheless, Airbnb is delivering at a high level, and the stock is more than reasonably valued.
Looking at the enterprise value to revenue ratio, Airbnb is trading near the low end of the valuation range since the IPO. The company has done an excellent job at navigating through tough times, so this valuation discount is not justified by fundamental performance. On the contrary, the stock is now comparably cheaper in spite of the fact that it has performed remarkably well in a difficult period for the industry.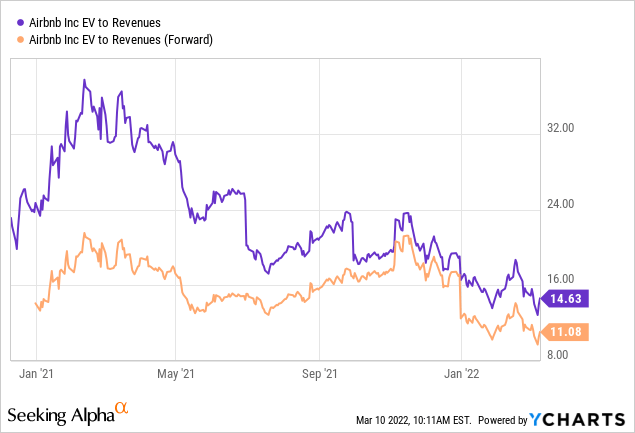 Data by YCharts
Wall Street analysts are on average expecting the company to make $4.24 in cash flow per share during 2022. At current prices, that means at forward price to free cash flow ratio of around 35. This is hardly excessive for such a high-quality business, especially when considering the potential for cash flow growth going forward.
Revenue growth is expected to be around 20% annually from 2023 to 2026, and profit margins will most probably expand because Airbnb has a remarkably attractive business model with low capital requirements. Free cash flow growth will likely exceed the revenue growth rate going forward.
The average price target among the analysts following the stocks is $200. This would mean a forward price to free cash flow ratio of $47 based on current cash flows estimates. This is not particularly cheap, but not unreasonable either for such a high-quality business with sustained growth potential in the years ahead.
Risk And Reward Going Forward
The invasion of Ukraine and the ensuing war in Europe are going to be a headwind for international travel demand. But we are coming from a global pandemic, and Airbnb has proven that it knows how to continue thriving in difficult periods.
Airbnb is working with hosts to provide housing to up to 100,000 refugees fleeing from Ukraine for free. The company is also allowing people to donate money to Ukrainian citizens by booking Airbnb rentals that will obviously never be used. Airbnb is supporting the Ukrainian people. This is good on its own merits, and companies that do well for their customers and society tend to do good for shareholders too.
Online travel agencies like Booking (BKNG) and Expedia (Nasdaq: EXPE) are trying to compete versus Airbnb lately. Airbnb has a superior brand presence, it gets over 90% of traffic directly, while the travel agencies need to spend large amounts of money in advertising to get that traffic. Increased competitive pressure is having no impact on Airbnb right now, but it is always a risk factor to watch going forward.
There are lots of clouds affecting visibility around Airbnb stock price in the short term. But this is what opportunities are made of. A company of this quality generally trades at aggressive valuations levels, and right now we get to purchase Airbnb at an attractive entry price.
From the 1986 Berkshire Hathaway shareholder letter by Warren Buffett:
Occasional outbreaks of those two super-contagious diseases, fear and greed, will forever occur in the investment community. The timing of these epidemics will be unpredictable. And the market aberrations produced by them will be equally unpredictable, both as to duration and degree. Therefore, we never try to anticipate the arrival or departure of either disease. Our goal is more modest: we simply attempt to be fearful when others are greedy and to be greedy only when others are fearful.
There is a lot of fear around growth stocks in general and Airbnb, in particular, these days. Investors with a long-term horizon and some tolerance to volatility may want to consider following Warren Buffett's advice.
Disclosure: I/we have a beneficial long position in the shares of ABNB either through stock ownership, options, or other derivatives.
Disclaimer: I wrote this article myself, and it ...
more