Advanced Accelerator Applications Provides An Excellent Shorting Opportunity
Advanced Accelerator Applications (NASDAQ: AAAP) - Sell or Short Recommendation - $31.25 PT
May 9, 2016, concludes the 180-day lockup period on Advanced Accelerator Applications.
At this point, AAAP's pre-IPO shareholders, directors and executives will have the chance to sell their ~67.7 million shares.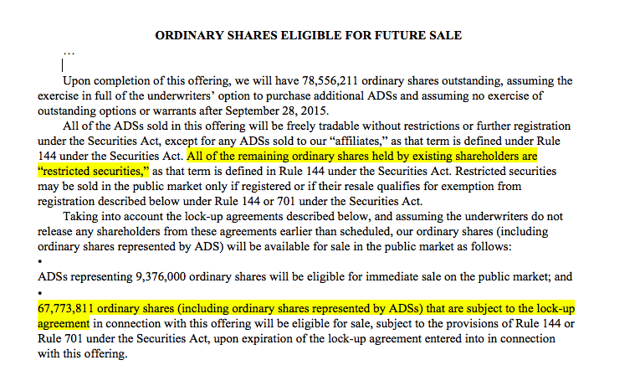 (Source)
The potential for a sudden increase in stock available in the open market may cause a significant decrease in the price of Advanced Accelerator Applications stock.
Business Summary: Radiopharmaceutical Company Developing Molecular Nuclear Medicine
Advanced Accelerator Applications is a radiopharmaceutical company that focuses on molecular nuclear medicine with therapeutic and diagnostic products. See our IPO preview of the firm here.
AAAP offers positron emission tomography (PET) products, including its branded PET imaging agent Gluscan that assists in the diagnosis of severe oncological conditions. Products also include IASOdopa for diagnosing Parkinson's disease and a variety of tumors; IASOflu, which scans and images bone metastases; and IASOcholine for diagnosing prostate cancer.
In March 2016, the company announced that it had begun an expanded access program (EAP) in the U.S. for its investigation product candidate Lutathera. Through this program, patients who suffer from certain inoperable cancerous tumors will have access to the investigation drug. Under its expanded access program, the FDA works with pharmaceutical companies to give patients with life-threatening illnesses access to certain investigational therapies. In addition, Advanced Accelerator Applications announced it had filed a new drug application (NDA) for Lutathera. The FDA allows rolling submissions under its Fast-Track program, and the agency accepted a submission plan in which each part of the NDA will be sent in by the end of the current month.
Recent Highlights
As per AAAP's recent press release:
Reported an increase of 37 percent for the third quarter of 2015 versus the same period in 2014
Reported an increase of 32 percent for the first nine months of 2015 versus the same period in 2014
Disclosure: I am/we are short AAAP.
I wrote this article myself, and it expresses my own opinions. I have no business relationship ...
more