A Look At Prospect Capital Insider Buying
It's been a rough year for business development companies ("BDCs"), and Prospect Capital (PSEC) was no exception. Including the large dividend, investors will be lucky to break even in the stock this year.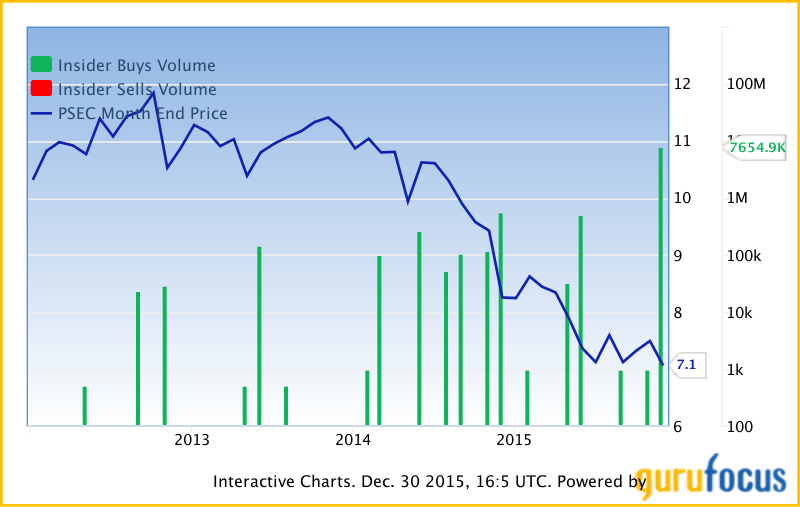 But throughout this bludgeoning of a year — and particularly in December — PSEC's insiders have been very aggressive buyers.
The management team doesn't have the best timing as investors, it seems. The surge of buying has come as the price continues to sag. But the numbers here should give the rest of us a degree of confidence. These insider buys are not the Wall Street equivalent of a Potemkin village designed to impressed outsiders. The sums are simply too large for that. Take a look at the chart below:
CEO John Barry dropped over $50 million of his own money in the month of December alone. And he's not the only one buying. Throughout 2015, four company insiders dropped a total of $56 million into the stock.
As we saw in the MLP sector this year (think Kinder Morgan (KMI) and Energy Transfer Equity (ETE) large, multi-million-dollar insider purchases do not guarantee a stock rally. Sometimes, insiders get overtaken by market events just like the rest of us. But it does show that management has skin in the game, and all else equal, I consider insider buying a positive signal.
At current prices, PSEC trades for just 0.7 times book value and yields 14%. At that price, I'm comfortable following the insider's lead. Market sentiment towards BDCs and other leveraged players will finally turn, and when it does I expect to see this stock return 50%-100% in the 12-18 months to follow.
Disclosures: Charles Lewis Sizemore, CFA, is chief investment officer of the investment firm Sizemore Capital ...
more