A Good Time To Buy Micron
Micron (Nasdaq: MU) operates in a challenging industry, and the company is being affected by economic risk and by the trade war with China, including the recent restrictions to Huawei. Nevertheless, management has proven that it can deliver solid performance through good and bad times, and the stock is quite attractively priced at current levels. Interestingly, both the price action and the fundamental momentum indicators look bullish for Micron over the middle term.
Solid Performance In A Challenging Period
Cyclicality and fluctuating pricing conditions in the industry are always a major source of uncertainty for investors in Micron. However, the company has managed to deliver positive sales, cash flows, and earnings through the ups and downs in the industry cycle over recent years.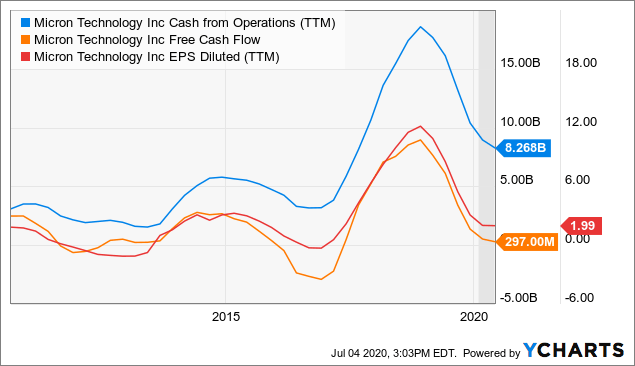 Data by YCharts
There has been a consolidation process in the industry over recent years. This is making the supply and demand dynamics and the pricing practices more rational and balanced, allowing for better profitability through good and bad periods.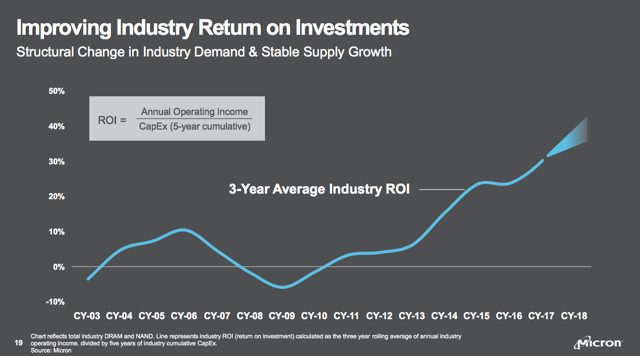 Source: Micron
Long-term technological trends in areas such as data centers, mobile computing, automotive, and Internet of Things are driving a secular shift in demand for Micron's products in terms of both quantity and quality. More sophisticated products generally carry higher pricing power and better profitability metrics than the more basic versions.
The numbers from the most recent earnings report confirm that the business keeps doing well in a difficult period. Total revenue during the quarter reached $5.4 billion, an increase of 14% year over year. The company generated $2 billion in cash from operations during the period accounting for a healthy 37% of revenue. Free cash flow in the quarter was $101 million, marking the 14th consecutive quarter of positive free cash flow for Micron.
Financial performance is still quite volatile, but it is good to see Micron producing consistently positive free cash flows in all kinds of environments. In terms of financial risk, a company that generally delivers positive cash flows is far superior to one that can burn big sums of cash during challenging times.
The pandemic is causing some disruptions in demand, with the auto, smartphone, and PC markets being negatively affected. On the other hand, increasing online activity, e-commerce, online gaming, and video streaming are driving additional data center capacity requirements. Working-from-home and online learning trends could be major tailwinds going forward.
Emerging technologies such as drone-based deliveries and the increased use of robotics across many applications are now being pursued with urgency and adoption of these technologies is being accelerated. These factors are ultimately bullish for Micron in the years ahead.
Disclosure: I/we have no positions in any stocks mentioned, but may initiate a long position in MU over the next 72 hours.
Disclaimer: I wrote this article myself, and it expresses my ...
more