7 Stocks To Buy In The Market's 3 Hottest Sectors
Invest in the momentum of these seven stocks spanning three different sectors that all have strong economic tailwinds lifting their revenues, profits, and stock prices higher. As the market continues to flirt with and reach new all-time highs, many sectors in the market seem primed to far outpace their peers.
Sometimes being a good investor is like being a good offensive coordinator in the NFL. You just have to take what the defense is giving you that game. Sometimes that means deploying a power running game, other times dinking and dunking the ball to move the chains. Occasionally it means airing the ball out frequently downfield. Just like different phases of the market, each game calls for a different strategy.
So what is working in the current equity market? Here are a couple areas of strength I have noticed and profited from lately, and I plan to continue to do so until the defense changes up again.
The consumer market in China is evidently doing better than some thought a few months ago. I have three large cap holdings with significant exposure to the consumers in the Middle Kingdom. I had been averaging down on their declines in late 2015 and early 2016. All three companies have solid long-term business fundamentals, rock-solid balance sheets and also pay a nice dividend yield which makes it easier to wait for the inevitable turnaround. All of these stocks are in the beginning of a rally.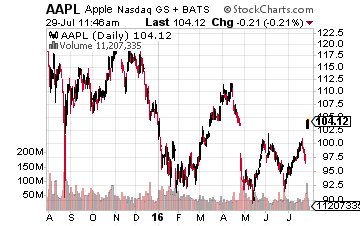 Let's start with Apple (Nasdaq: AAPL), which saw revenue decline significantly this quarter when compared to last year, however, results came in much better than expected. The shares are up some 10% since quarterly results were released, but they are still cheap. The shares sell for approximately nine times earnings if you back out the company's massive cash holdings and yield more than two percent as well.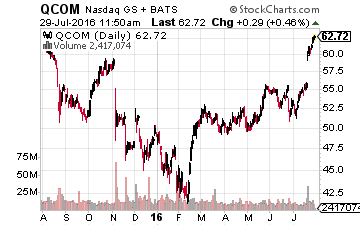 Qualcomm (Nasdaq: QCOM), which was waylaid by Chinese regulators in 2015 is having a much better 2016 and is one of the strongest performers in large cap tech this year. The company recently beat both top and bottom line expectations with their quarterly numbers and raised guidance as well. This is another tech giant with substantial net cash on balance sheet. The shares yield just under three and half percent and sell at a discount to the overall market multiple.
Disclosure: Positions: Long ...
more