5 Top Stocks With Solid Sales Growth Worth Considering Now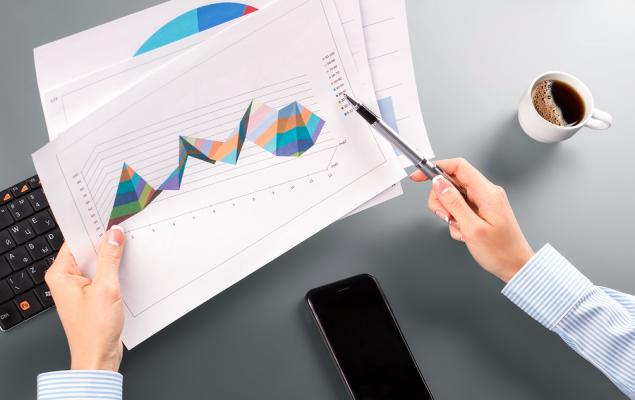 Image: Bigstock
Sales growth is an important metric for any company, as it is a major part of growth projections and instrumental in strategic decision making. By observing this key metric over a period of time, one can clearly understand a company's growth trend.
Sales growth is crucial to justify the fixed and variable expenses incurred to operate a business. Low revenues lead to unprofitable business and dismal financial results. Stagnant companies may generate near-term profit. However, firms need to show accelerated growth to attract new investors.
Further, in an improving economy, a lack of sales growth most likely indicates that the company is not gaining market share over its competitors. In simple terms, some sustained sales growth is needed to support profitability.
Focusing exclusively on sales growth is not enough though. A healthy sales growth rate is certainly a positive indicator for picking good stocks, but it does not ensure profits. So, taking into consideration a company's cash position, along with its sales number, can prove to be a more dependable strategy.
Strong liquidity position and steady cash flow give a company more flexibility with respect to business decisions and potential investments. Cash also enables a company to endure market downturns. Most importantly, a sufficient cash position indicates that revenues are being channelized in the right direction.
Picking Winning Stocks
In order to shortlist stocks with impressive sales growth and a high cash balance, we have selected 5-Year Historical Sales Growth (%) greater than X-Industry and Cash Flow more than $500 million as our main screening parameters.
But sales growth and cash strength are not the absolute criteria for selecting stocks. Hence, we have added certain other factors to arrive at a winning strategy.
P/S Ratio less than X-Industry: This metric determines the value placed on each dollar of a company's revenues. The lower the ratio, the better it is for picking a stock since the investor is paying less for each unit of sales.
% Change F1 Sales Estimate Revisions (four weeks) greater than X-Industry: Estimate revisions, better than the industry, are often seen to trigger an increase in stock price.
Operating Margin (average last five years) greater than 5%: Operating margin measures how much every dollar of a company's sales translates into profits. A high ratio indicates that the company has good cost control and sales are increasing faster than costs — an optimal situation.
Return on Equity (ROE) greater than 5%: This metric will ensure that sales growth is translated into profits and the company is not hoarding cash. A high ROE means that the company is spending wisely and is in all likelihood profitable.
Zacks Rank less than or equal to 2: Zacks Rank #1 (Strong Buy) or 2 (Buy) stocks are known to outperform, irrespective of the market environment.
Here are five of the 11 stocks that qualified the screening:
Headquartered in San Francisco, CA, Williams-Sonoma, Inc. (WSM Quick Quote WSM - Free Report) is a multi-channel specialty retailer of premium quality home products. Its expected sales growth rate for fiscal 2022 is 12.7%. The stock currently carries a Zacks Rank #2.
Facebook, Inc. (FB Quick Quote FB - Free Report), based in Menlo Park, CA, is the world's largest social media platform. The company's expected sales growth rate for 2021 is 25.2%. It currently carries a Zacks Rank #2.
Headquartered in Andover, MA, MKS Instruments, Inc. (MKSI Quick Quote MKSI - Free Report) is a global provider of instruments, subsystems and process control solutions that measure, monitor, deliver, analyze, power and control critical parameters of advanced manufacturing processes. Its expected sales growth rate for 2021 is 25.1%. The stock sports a Zacks Rank #1 at present.
Cleveland, OH-based KeyCorp (KEY Quick Quote KEY - Free Report) provides a wide range of products and services, such as commercial and retail banking, commercial leasing, investment management, consumer finance as well as investment banking products. Its expected sales growth rate for 2021 is 4%. The stock carries a Zacks Rank #2 at present.
Chicago, IL-based Cboe Global Markets, Inc. (CBOE Quick Quote CBOE - Free Report) is one of the largest stock exchange operators by volume in the United States and a leading market globally for ETP trading. Its expected sales growth rate for 2021 is 8.9%. The stock carries a Zacks Rank #2 at present.
Disclaimer: Neither Zacks Investment Research, Inc. nor its Information Providers can guarantee the accuracy, completeness, timeliness, or correct sequencing of any of the Information on the Web ...
more