5 Top-Rated Industrial Stocks That Can Offer Impressive Gains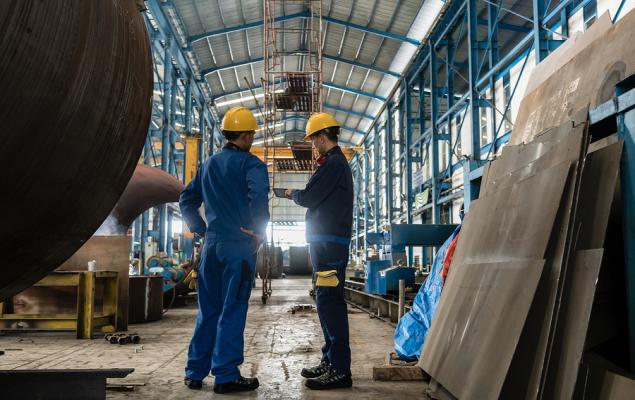 Image: Bigstock
Despite the pickup in the pace of vaccination, coronavirus cases in the United States are soaring. However, it isn't affecting economic growth this year the way it did last year. Lately, there has been a momentous uptick in consumer spending. The labor market has shown enough signs of recuperating and the service side of the U.S. economy is up and running. Most importantly, manufacturing remains a bright spot as the broader economy shrugged off the drubbing it took last year due to the pandemic.
Industrial production, in particular, bounced back in March from the slump in February. After all, harsh winter weather conditions impacted output in the month of February. Nonetheless, per the Federal Reserve, industrial output increased 1.4% last month from a revised 2.6% decline in the prior month.
Industrial output rebounded on the back of stimulus measures taken by the government to pep up the economy and also the rollout of the vaccine normalized business activity across the states. However, utility output dropped 11.4% in March versus a gain of 9.2% in February. This is because of the drop in demand for heating, thanks to the swing in temperatures from a cold February to a rather warm March, added the Federal Reserve.
Nevertheless, the output of motor vehicles and parts advanced 2.8% from a drop of 10% in February. Similarly, the output of mining that generally includes oil and gas exploration climbed 5.7% last month from a drop of 5.6% in the previous month. Above all, total industrial output increased at an annual rate of 2.5% for the first quarter, noted the Federal Reserve.
Additionally, industries' production capacities too expanded last month. Remarkably, the capacity utilization rate for the industrial sector increased to 74.4 in March from February's 73.4, per the Fed report.
5 Top Industrial Stocks to Invest In Right Away
March's top-line industrial output numbers show that the manufacturing sector is in the pink and is unperturbed by the recent rise in coronavirus cases. Lest we forget, the Institute of Supply Management's manufacturing index for the month of March came in at 64.7% versus February's reading of 60.9%, as mentioned in a CNBC article.
Disclaimer: Neither Zacks Investment Research, Inc. nor its Information Providers can guarantee the accuracy, completeness, timeliness, or correct sequencing of any of the Information on the Web ...
more