5 Stocks With Recent Price Strength Following A Strong 1H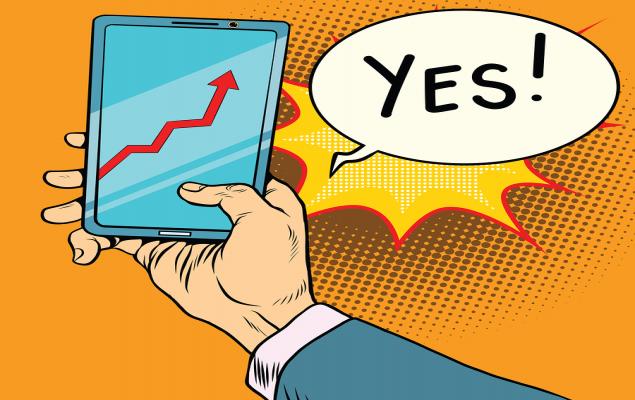 Image: Bigstock
Wall Street completed an impressive first half of 2021 after a stellar run in 2020 despite the pandemic. The three major stock indexes — the Dow, the S&P, and the Nasdaq Composite — rallied 12.7%, 14.4%, and 12.5%, respectively, in the first half of 2021. The mid-cap specific S&P 400 climbed 16.9% in the same period. Meanwhile, the two small-cap centric indexes — the Russell 2000 and the S&P 600 — jumped 17% and 22.9%, respectively.
Nationwide COVID-19 vaccinations, a sharp decline in new coronavirus cases, a faster-than-expected reopening of the economy, an unprecedented fiscal stimulus, Fed's ongoing easy-money policy, and the Fed Chairman's reiteration that the inflation is transitory despite raising the inflation forecast for 2021, significantly bolstered market participants' confidence in risky assets like equities.
The Congressional Budget Office (CBO) has raised its outlook for the U.S. GDP growth rate in 2021 to 7.4%, marking a significant jump from the 4.6% forecast on Feb 1. Thereafter, GDP is expected to grow around 2.8% per annum through 2025.
The core PCE price index — Fed's favorite gauge for inflation — will rise to 2.8% in 2021 compared with the Fed's estimate of 3.1%. The CBO said that the unemployment rate will fall to 4% in 2022. Notably, on Jun 16, the Fed raised the GDP growth rate for 2021 to 7% from 6.5% in March. The Fed reaffirmed that the unemployment rate will come down to 4.5% at the end of 2021.
U.S. stock markets are set to continue their strong performance on the back of solid consumer and business confidence, solid improvement in GDP growth, and corporate profits.
At this stage, wouldn't it be a safer strategy to look for stocks that are winners and have the potential to gain further?
Sounds Good? Here's How to Execute It:
One should primarily target stocks that have freshly been on a bull run. Actually, stocks seeing price strength recently have a high chance of carrying the momentum forward.
Disclaimer: Neither Zacks Investment Research, Inc. nor its Information Providers can guarantee the accuracy, completeness, timeliness, or correct sequencing of any of the Information on the Web ...
more