5 Stocks To Sell In May
Just about every investor has heard the old standby "sell in May and go away" around this time of year. This is more than just a fun play on words. It is rooted in the observed tendency for stocks to enjoy their strongest gains during the winter months and underperform during the summer.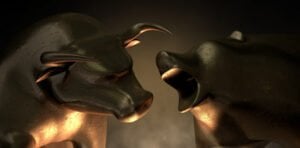 It might be even more popular than usual this year, with stocks just off record highs and inflations sirens blaring. We're not saying it's time to cash out your portfolio, but our experts have drilled down to create a list of stocks to sell right now.
You see, Wall Street analysts call this the "seasonal cycle" in the stock market, and for decades going back to the 1950s, if not earlier, investors who stayed fully invested from November through April produced similar returns to being invested all year – but with less risk.
Summertime activity was lighter, and with many companies on easier works schedules, earnings blockbusters were less frequent. However, conditions changed after the financial crisis of 2008. Being out of the market over the summer meant losing out on a good deal of gains.
But this does not mean that all stocks are poised for summer gains. Even if "sell in May" isn't the truism it used to be, there are some stocks you should still be selling right now.
While the market may not necessarily stall this year, one of our experts, Money Morning Quantitative Specialist Chris Johnson, has pinpointed five stocks that are actually in bearish cycles. If you have them, you might want to consider cashing out now before gravity takes over, dragging them lower.
The 5 Stocks to Sell Now
Baidu Inc. (NASDAQ: BIDU)
Often referred to as the Google of China, Baidu is a giant in Internet search and online marketing services.
Big Chinese tech stocks are in the crosshairs of the bears right now, and Baidu has been trending lower since February. In fact, it is now trading below its 50-day moving average and 41.5% off its peak.
Disclaimer: Any performance results described herein are not based on actual trading of securities but are instead based on a hypothetical trading account which entered and exited the suggested ...
more