5 Biotech Takeover Targets That Could Get Bought Soon
Don't let the resurgence in M&A in the biotech sector pass you by. Big pharma companies have set their sights on small and mid-cap stocks and have shelled out offers with big premiums. Bret Jensen shares his top five picks for likely acquisition targets in biotech.
We are starting to see some of the "animal spirits" coming back into the biotech sector after its deepest and longest bear market since the financial crisis. The Treasury Department and the election season have made mega-mergers impossible to get through regulatory agencies, so the biotech and pharma giants are starting to concentrate in the small and mid-cap space by making what some call "bolt on" acquisitions
AbbVie (NYSE: ABBV) helped start this new wave when it purchased privately held StemCentrix for almost $6 billion in late April in efforts to expand their pipeline into oncology. In May Pfizer (NYSE: PFE) paid over $5 billion to acquire Anacor Pharmaceuticals (Nasdaq: ANAC).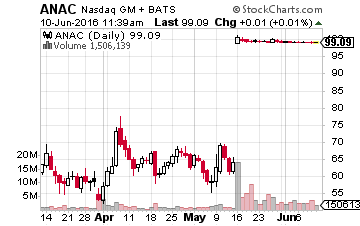 Pfizer paid a 60% premium for the pleasure. The company has one product on the market. The driver of the acquisition is a compound called Eucrysa, an eczema cream currently before US regulators for approval as well as psoriasis agent AN2898 in Phase II development. Pfizer believes Eucrysa could eventually do $2 billion in peak annual sales.
Outside the mid-caps in the industry, the smaller players are also getting some attention. Xenoport (XNPT), which has an approved product for restless leg syndrome and has compounds in the pipeline targeting psoriasis, multiple sclerosis, and Parkinson's disease. Privately held Arbor Pharma paid an approximate 60% premium to purchase Xenoport.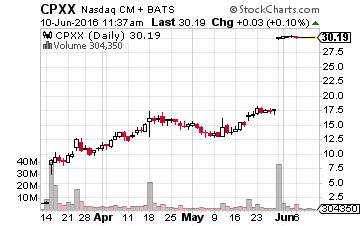 On the last day of May, Jazz Pharmaceuticals (NASDAQ: JAZZ) has agreed to pay $30.25 a share to acquire Cellator Pharmaceuticals (Nasdaq: CPXX) whose stock closed Friday at $17.50 a share. Up until March of this year, the shares spent a good portion of their previous two years available at under $2.50 a share. This company's main asset is VYXEOS. This is the first product candidate to demonstrate a statistically significant improvement in overall survival in patients with high-risk (secondary) AML and has Orphan Drug Status in both the United States and Europe.
Disclosure: Positions: more