5 Best Long-Term Dividend Stocks To Buy Now
Monday's 2% plunge in stocks reminded investors that choppy waters are ahead. But owning the best dividend stocks can offer stability when things get bumpy.
In 2013, JPMorgan Asset Management compared the performance of companies initiating and growing their payouts between 1972 and 2012 to publicly traded companies that didn't pay a dividend over the same stretch.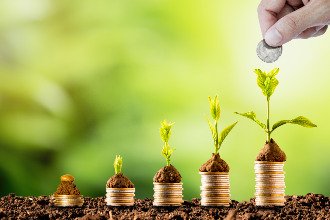 The result was that dividend-paying stocks averaged an annual return of 9.5%. And non-dividend-paying stocks had an annualized return of just 1.6%.
And during times when U.S. stocks are struggling, dividends provide a peace of mind that comes with knowing you have a steady stream of income.
So, let's take a look at the five best dividend stocks to buy before markets get choppy...
Best Dividend Stock, No. 5: AGNC Investment Corp.
Mortgage real estate investment trusts (REITs) like AGNC Investment Corp. (NASDAQ: AGNC) are in a position to really shine.
These companies borrow money at short-term lending rates and then use it to buy long-term assets that return higher yields, like mortgage-backed securities. By maximizing the difference between long-term yield and the borrowing rate, these companies generate a higher net interest margin.
During the early stages of economic recovery, long-term bond yields rise while short-term bond yields flatten or decline - steepening the yield curve. And when the yield curve steepens alongside flat or lower interest rates from the Fed, that's great for mortgage REITs. That's because they lose value as interest rates increase.
That's exactly where we are now, putting REITs a great spot.
AGNC delivers a strong 9.05% dividend yield and an annual payout of $1.44 per share. It's worth noting that AGNC pays its dividend monthly.
And if you need any more reason to invest in AGNC, the company has averaged a double-digit percentage yield in 11 of the past 12 years.
Best Dividend Stock, No. 4: AT&T Inc.
Disclaimer: Any performance results described herein are not based on actual trading of securities but are instead based on a hypothetical trading account which entered and exited the suggested ...
more