4 Stocks To Watch Out For On Consistent Demand For Video Games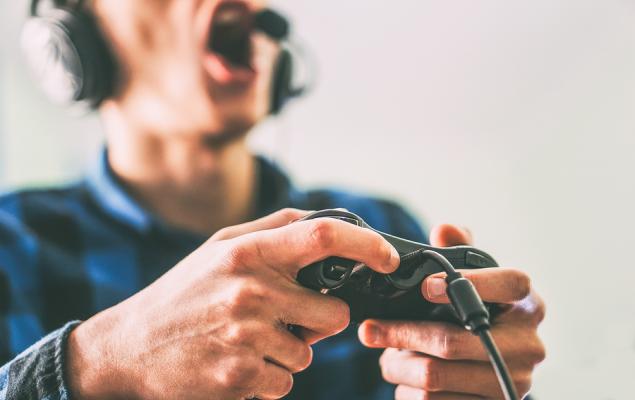 Image: Bigstock
The video-gaming market continues to experience unprecedented growth despite the reopening of outdoor entertainment parks, theaters, and the resumption of sports events worldwide. Also, video game sales have increased every month since the coronavirus outbreak except for a surprise dip in April 2021.
New players are foraying into the videogames market while existing players are pumping in billions of dollars to develop new games. The video gaming industry is set to witness a CAGR of 9.64% between 2021 and 2026 and reach $314.4 billion, according to the data from a Mordor Intelligence report.
In July, Netflix (NFLX Quick Quote NFLX - Free Report) announced that it would be foraying into the gaming market. This is expected to intensify competition over the coming days as the streaming giant will be providing ad-free videogame services for mobile devices to its existing customers for free.
Moreover, technological breakthroughs have helped industry players expand their user base. The advancement and availability of 5G, augmented reality, virtual reality, as well as cloud gaming are making things better.
Cloud gaming is gaining popularity as it allows access to video games on various devices anywhere, anytime, and removes the need for expensive gaming consoles/hardware. Cloud gaming is forecast to witness a CAGR of 48.2% between 2021 and 2027, per a Grand View Research report.
Further, the growing popularity of multi-player mobile gaming has also helped game publishers reap profits. The majority of these free-to-play games come with in-game purchases, which eventually generate revenues for publishers. Per Sensor Tower's latest report, players spent roughly $270 million on Tencent's (TCEHY Quick Quote TCEHY - Free Report) PUBG Mobile in August 2021, up 4.7% year over year.
Video Game Sales Continue to Surge
Recently-released data from The NPD Group, as cited by a Venture Beat report, showed that the video game industry across video game hardware, content, and accessories witnessed robust sales in August with people spending $4.37 billion in all, up 7% year over year. This brings year-to-date industry spending to a total of $37.9 billion, up 13% from the same period last year.
August video game hardware sales jumped 45% year over year to $329 million. Nintendo Switch was the best-selling hardware platform in units in August and year-to-date.
Madden NFL 22 by Electronic Arts (EA Quick Quote EA - Free Report) debuted as the best-selling game of August, while also ranking 4th among the best-selling games a year to date. Meanwhile, Sony's Ghost of Tsushima ranked as the second best-selling game of August, followed by Activision Blizzard's (ATVI Quick Quote ATVI - Free Report) Call of Duty: Black Ops: Cold War.
We believe that the latest developments and robust initiatives to boost player engagement and provide immersive experience amid rapid growth in the gaming industry will help the industry players to bolster gaming revenues in the quarters ahead.
Stocks to Watch
Given this surge in sales and upbeat sentiment in the video gaming industry, investors can track the following gaming stocks as the popularity of video games in the United States is expected to grow further. The outbreak has changed the lifestyles and preferences of the citizens to a large extent. Besides, fears of the Delta variant of COVID-19 have been on the rise, with new cases being reported daily despite millions being vaccinated. This might keep gamers confined to their homes in the near term.
Year to Date Performance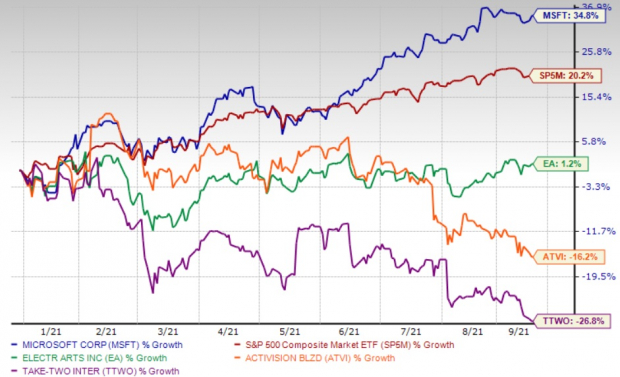 Image Source: Zacks Investment Research
Microsoft Corporation (MSFT Quick Quote MSFT - Free Report) is one of the leading videogame makers and manufacturers of hardware and accessories. This Zacks Rank #2 (Buy) company offers a free-to-play mobile spin-off of its popular Forza racing franchise, namely, Forza Street. Notably, the company is set to launch the next installment of its Forza series on Nov 5, namely Forza Horizon 5, across PCs and Xbox consoles.
In fact, in fiscal fourth-quarter 2021, gaming revenues increased 11% year over year with revenues from Xbox hardware rising 172%, driven by the new line of consoles.
Electronic Arts is benefiting from solid demand for popular mobile games such as Madden Mobile, FIFA Mobile, and Star Wars: Galaxy of Heroes. This Zacks Rank #3 (Hold) company's portfolio now spans more than 15 top mobile live services.
EA, through its recent takeovers — Playdemic, Glu Mobile, Inc., and Codemasters Group Holdings plc — expects to propel mobile growth with ongoing live services across different games and genres. Its recent partnership with the United States Golf Association for featuring the U.S. Open Championship in EA Sports PGA Tour and the announcement of a first-person shooter game Battlefield 2042 that is going to be launched on Oct 22, 2021, is further thrilling gaming enthusiasts.
Take-Two Interactive (TTWO Quick Quote TTWO - Free Report) is benefiting from a steady increase in recurrent consumer spending and solid demand for Grand Theft Auto (GTA) Online and GTA V, Red Dead Redemption 2 and Red Dead Online, Borderlands 3, Sid Meier's Civilization VI, Social Point's mobile offerings, the WWE series, Dragon City, and Two Dots.
This Zacks Rank #3 company's strong slate of releases including the recently launched NBA 2K22 is expected to drive revenues in the near term. Take Two's division 2K in collaboration with Gearbox Entertainment announced the arrival of a new adventure game named Tiny Tina's Wonderlands in early 2022. Private Division also announced that it will release OlliOlli World and Kerbal Space Program Enhanced Edition this winter.
Activision Blizzard's top line is benefiting from an expanding user base of Call of Duty (COD), Hearthstone, World of Warcraft (WoW), and King's franchises. Additionally, the success of WoW: Shadowlands, which has become the fastest-selling PC game, is a key catalyst. Further, the growing popularity of COD Mobile and e-sports initiatives are positives.
Call of Duty: Vanguard, the latest edition from the popular Call of Duty franchise, will be launched worldwide on Nov 5. Moreover, the upcoming launch of Diablo II: Resurrected is expected to boost the top-line growth of this Zacks Rank #3 company.
Disclaimer: Neither Zacks Investment Research, Inc. nor its Information Providers can guarantee the accuracy, completeness, timeliness, or correct sequencing of any of the Information on the Web ...
more