4 Stocks To Gain From Booming Global Gaming PC, Monitor Market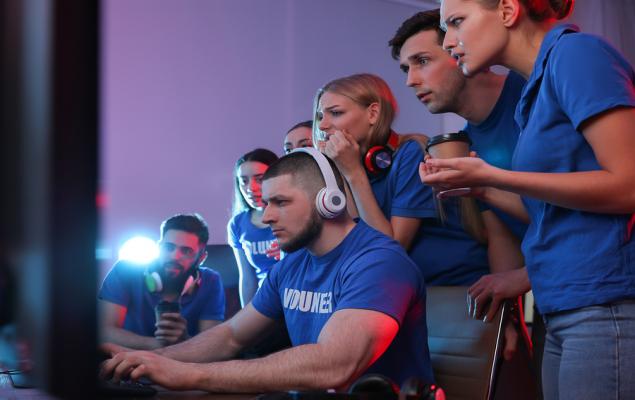 Image: Bigstock
The U.S. videogame industry has been on a high ever since the COVID-19 outbreak. With millions locked inside their homes, people continue to spend more on console games and hardware as the pandemic has left them with fewer choices of entertainment.
According to the latest data from International Data Corporation (IDC), the global gaming PC and monitor market hit a new high in 2020 as shipments saw a record jump in 2020. Moreover, spending on video games jumped in the first two months of 2021, marking one year of continued gains amid pandemic-related disruptions.
Gaming PC Shipments Hit New High
According to the latest report from IDC, gaming PC and monitor jumped 26.8% year over year in 2020 to a whopping 55 million units. Growth rate, both in terms of units and percentage, was the fastest and highest since IDC began tracking the market in 2016.
The higher numbers were driven by the pandemic-induced lockdown that left people with not many choices of outdoor entertainment. This saw people shelling out huge money on video games and hardware.
According to IDC, gaming notebooks emerged as the biggest draw in terms of volumes. Shipments of gaming notebooks grew a record 26.9% in 2020. Gaming monitors also hit a new high, growing 77% from 2019, with shipments reaching 14.3 million units.
Moreover, North America and Europe combined took over the Asia Pacific as the largest market for gaming PCs and monitors for the first time.
Videogame Industry on a High
According to an earlier report from NPD Group, videogame sales reached $56.9 billion in 2020 in the United States alone, jumping 27% from 2019. The pandemic saw millions stuck in their homes with not too many options for entertainment. This saw them shelling out more on gaming consoles and other accessories and software, thus making it a great 2020 for the videogame industry.
According to IDC, the gaming market will remain a bright spot although it predicts the gaming monitor market to slowly fade away in favor of notebooks. However, it expects the gaming monitor market to witness a five-year CAGR of more than 10%.
Disclaimer: Neither Zacks Investment Research, Inc. nor its Information Providers can guarantee the accuracy, completeness, timeliness, or correct sequencing of any of the Information on the Web ...
more