4 Likely Biotech Takeover Targets To Buy
It was a good week for the Biotech Gems portfolio. Progenics Pharmaceuticals (NASDAQ: PGNX) leapt 25% in trading Wednesday after announcing that the oral version of relistor had been approved by the FDA. Then on Thursday, another small cap in the 20 stock portfolio, Relypsa (NASDAQ: RLYP), broke news before the bell that it was being acquired by Swiss based Galencia for $32 a share in cash which represented a 60% premium to where the stock closed at on Wednesday and a 75% total gain from when I first recommended the stock.
My view is that M&A within biotech and biopharma will pick up in the second half of 2016 as major pharma and biotech concerns leverage low interest rates and their cash flow to replenish pipelines. So, what are some my favorite possible buyout targets in the space right now? Here is a short list.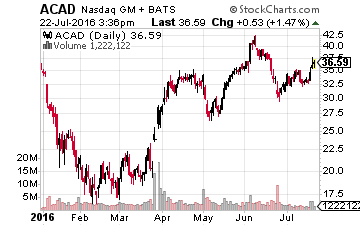 Let's start with the most logical mid-cap biotech stock other than Medivation (NASDAQ: MDVN), which is already in the midst of trying to fend off a bid from French drug maker Sanofi (NYSE:SNY). That is Acadia Pharmaceuticals (NASDAQ: ACAD).
This stock is already up 80% this year but still could fetch a significant premium. The company currently has a market capitalization of around $4 billion.
The shares' rally has been powered by the approval of Nuplazid. This is the first approved treatment for the psychosis seen in many Parkinson's patients. It has billion dollar annual sales potential just for that one approved indication, but Nuplazid is also in mid-stage trials for treating psychosis found in Alzheimers patients as well as individuals that have Schizophrenia. Success here could boost peak revenue potential dramatically.
This is Acadia's first commercial success and it is building up its salesforce as it rolls out Nuplazid. It has plenty of cash on the balance sheet to do so, but being acquired by a larger player with an established sales force in the neurology space would make strategic sense. Biogen (NASDAQ: BIIB) makes the most sense as a potential suitor. It certainly has the financial flexibility to make this purchase work. It is spinning out its hemophilia business that could be worth $5 billion to $7 billion. The company also recently laid off more than 10% of its workforce and shut down failed trials in areas such as Lupus. Biogen has said it wants to expand its offerings targeting neurological diseases and picking up Acadia could boost its growth prospects in that area.
Disclosure: Positions: Long ...
more