3 Stocks To Buy Amid The August Market Pullback And Hold
The August downturn has been spurred by a mixture of profit-taking and a recalibration of the inflation outlook. The Fed's July minutes, coupled with strong retail sales data and more showcase how sturdy the U.S. economy is at the moment. This means that Jay Powell and his peers will likely have to leave their core rate higher for longer to help cool prices and prevent inflation from possibly rebounding.
The outlook for rates and inflation is showing up in 10-year U.S. Treasury yields, which have surged to fresh 52-week highs and their highest levels since before the financial crisis.
Stocks slipped for the third day in a row on Thursday to send both the S&P 500 and the Nasdaq deeper below their 50-day moving averages. The selling certainly isn't fun in the moment. But the downturn was needed to blow the froth off the top of the massive 2023 rally.
The Nasdaq is now near oversold RSI levels for the first time since late December (when the market rally began).
(Click on image to enlarge)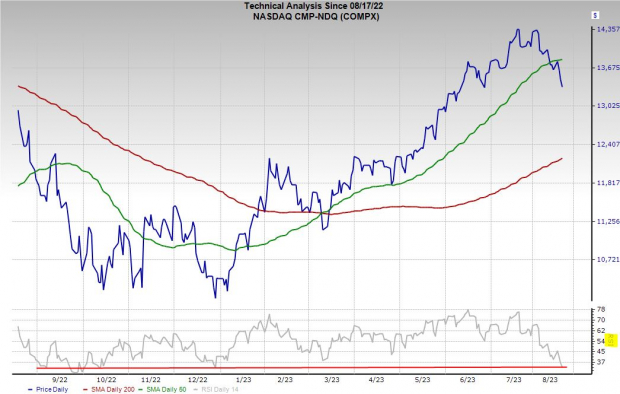 Image Source: Zacks Investment Research
There could, of course, be more selling in the near term. Yet the Fed is still near the tail end of its tightening efforts and the earnings outlook for 2024 and 2025 remains robust.
Let's dig into three stocks that investors might want to buy now during the August pullback and hold for the long haul.
Cintas Corporation (CTAS)
Cintas is a titan in the work uniform and business apparel space, currently serving over one million customers across various areas of the economy. The company operates both rental and purchase segments to clients in healthcare, food service, education, hospitality, and beyond.
Cintas also runs various other offerings such as facility services like restroom and cleaning supplies, first aid, fire protection services, and much more.
(Click on image to enlarge)

Image Source: Zacks Investment Research
Cintas has grown at steady and impressive clips over the last several decades. CTAS sees big upside through both existing clients and its large addressable market. The company grew both its adjusted earnings and revenue by roughly 12% in its fiscal 2023 (period ended May 31), which it reported in the middle of July.
Zacks estimates call for CTAS to post 7% revenue growth both this year and next to reach $10 billion. Meanwhile, its adjusted earnings are projected to climb around 9% and 10%, respectively. Cintas earnings outlook has trended higher over the last few years and it is up slightly since its last report. CTAS has also topped our quarterly EPS estimates for five years running.
(Click on image to enlarge)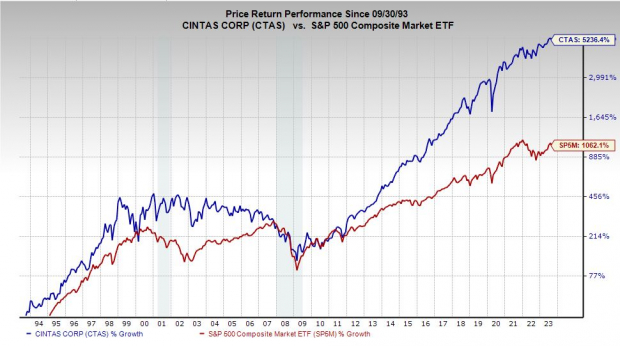 Image Source: Zacks Investment Research
Cintas' strength and stability are further cemented by the fact that it is one of roughly 65 S&P 500 Dividend Aristocrats, which are firms that have both paid and raised dividends for at least 25 straight years.
CTAS stock has soared around 900% in the past 10 years to blow away the S&P 500's 175%, with CTAS up 55% in the last three years and 9% YTD. Cintas is currently trading right around its 50-day moving average and 7% below its average Zacks price target. On the valuation front, Cintas trades 18% below its highs at 33.8X forward 12-month earnings.
Lululemon (LULU)
Lululemon changed the way millions of people dress as everyone from Nike (NKE) to Target raced to rollout their own athleisure styles for women and men. LULU's evolution into a well-rounded sportswear and apparel company is on full display today. Lululemon sells a range of clothing fit for the gym, the office, a date night, the golf course, and practically anywhere.
Lululemon has its own resale shop that allows users to sell and buy used Lululemon apparel similar to Patagonia and other higher-end brands with very strong brand and customer loyalty. LULU has ventured into other various revenue streams as well.
(Click on image to enlarge)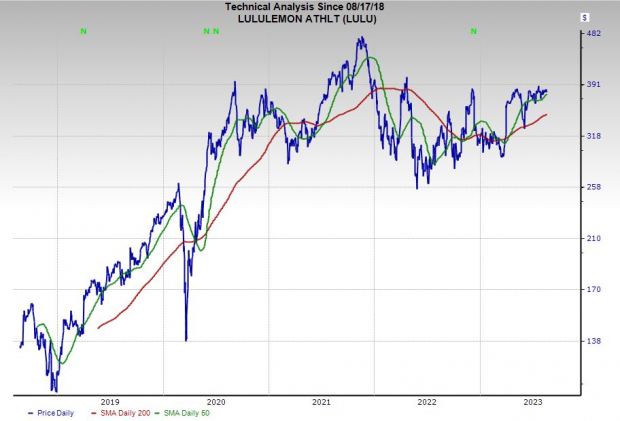 Image Source: Zacks Investment Research
Lululemon's consistent growth is highly impressive, with it powering through the recent consumer slowdown, driven by higher income shoppers. Lululemon posted 30% revenue growth in its fiscal 2022, 42% sales expansion in FY21, and 16% average revenue growth during the five years prior. LULU also posted 30% adjusted earnings growth in FY22 as it benefits from its customers willing and able to pay $130 for leggings and $90 for shirts.
LULU beat our Q1 FY23 earnings and sales estimates in early June and upped its outlook. Zacks estimates call for another stretch of double-digit sales and earnings growth in FY23 and FY24.
Plus, Lululemon executives project it will double its net revenue between 2021 and 2026. Lululemon's upward earnings revisions help it land a Zacks Rank #2 (Buy) right now. Wall Street remains very high on the stock, with 19 of the 24 brokerage recommendations Zacks has at "Strong Buys."
(Click on image to enlarge)

Image Source: Zacks Investment Research
LULU stock has skyrocketed 3,800% over the last 15 years vs. the S&P 500's 255% and 180% in the last five—vs. the S&P 500's 55% and Nike's 32%. Yet investors can buy Lululemon at a possibly attractive long-term entry point, with it trading 20% below its 2021 peaks, chopping around for the last several years.
The stock is currently trading above both its 50-day and 200-day moving averages. Plus, Lululemon trades at a nearly 60% discount to its own highs and sightly under its 10-year median at 29.5X 12-month earnings. And it has a sturdy balance sheet.
McDonald's (MCD)
McDonald's is another stock on our list today that makes the exclusive group of S&P 500 Dividend Aristocrats. The fast-food superpower is thriving with a business that hasn't changed much in decades by going all in on mobile ordering and delivery, while making the occasional menu tweak.
The McDonald's app was downloaded 127 million times worldwide in 2022, according to Apptopia to blow away Uber Eats' 60 million, DoorDash's 42 million, and Starbucks' 34 million.
There are over 40,000 McDonald's locations across over 100 countries, with roughly 95% owned by franchisees. McDonald's customers know what they are getting and so does Wall Street.
(Click on image to enlarge)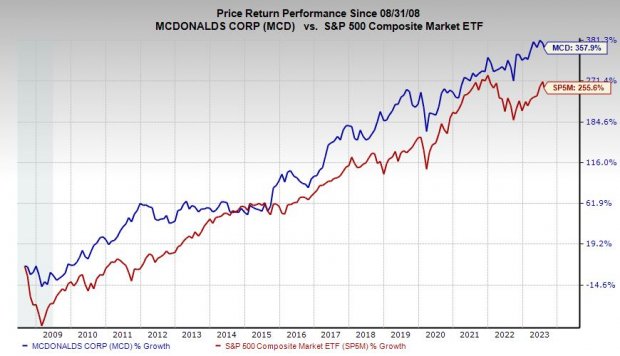 Image Source: Zacks Investment Research
McDonald's posted 11% global comps growth in 2022 and 17% in 2021. MCD's adjusted earnings climbed roughly 9% and 50%, respectively during this same stretch. McDonald's topped our Q2 earnings and revenue estimates in late July and upped its guidance, with comps up another 12%.
Zacks estimates call for MCD's adjusted earnings to surge 14% in 2023 and another 8% in FY24. The company's revenue is projected to climb 10% in FY23 and 8% higher in 2024 to reach $27.37 billion, with total 2023 comparable sales growth estimated to hit 9%. McDonald's positive earnings revisions help it land a Zacks Rank #2 (Buy).
(Click on image to enlarge)

Image Source: Zacks Investment Research
McDonald's shares have roughly doubled the S&P 500 over the last 25 years, up over 900%, with a total return of roughly 1,700%. MCD is up 75% over the last five years and 20% during the past 24 months vs. the S&P 500's tiny dip.
McDonald's has popped 7% in 2023, with it down around 6% from its highs. MCD might have to find buyers at its 200-day moving average soon. That said, it is now near oversold RSI levels. And it trades at a 20% discount to its own highs at 23.6X forward earnings.
---
More By This Author:
Bull of the Day: Uber Technologies, Inc.
Bear of the Day: Zebra Technologies
Bear of the Day: Tronox Holdings plc
Disclaimer: Neither Zacks Investment Research, Inc. nor its Information Providers can guarantee the accuracy, completeness, timeliness, or correct sequencing of any of the Information on the Web ...
more