3 Mobile Tech Stocks Eating Apple's Lunch
Apple may be falling on harder times, and the technology goliath is feeling the pressure from these three fast-moving and nimble companies coming to eat up their market share and profits.
After years of leading the mobile technology revolution and helping pace large cap stocks to new highs, Apple (NASDAQ: AAPL) seems to have hit a wall. As if the Apple Watch failure wasn't enough of a business and media flop, word that the iPhone 6s production has been cut and demand may be slipping has prompted a $100 billion reduction in the company's market value.
Nonetheless, the Apple problems are not necessarily indicative of the growth in all mobile communications segments. In fact, many are thriving by attaining leadership status in valuable, niche segments of the industry. I have identified 3 stocks that appear primed for solid growth this year and beyond despite demand slippage that Apple mobile devices and the company are experiencing across the globe.
Infosonics Corp. (NASDAQ: IFON)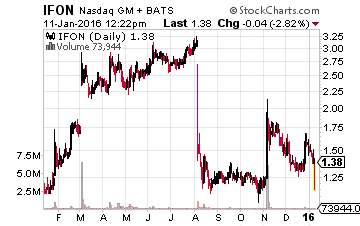 Known for its verykool brand, Infosonics is a U.S.-based manufacturer and provider of wireless handsets, tablets, and related products to carriers, distributors, and consumers in the United States and Latin America. The verykool portfolio runs the gamut from basic feature phones to sleek and sophisticated smartphones.
Revenue growth is on fire of late with sales jumping 50% to $12.2 million in the third quarter of 2015 as compared to $8.1 million in the same period last year. Plus, Infosonics recorded an operating loss of less than $100,000, indicating operating profits are in the offing as sales continue to rise.
In my view, the company's popular product lineup and the December 2015 introduction of a new Android 4G LTE product line, Maverick, should drive continued interest from its big box retailer customers and end users alike. My target price of $3.50 reflects 1x expected revenue for the 2015 calendar year, which is a typical valuation afforded microcap consumer technology providers like Infosonics that have no long-term debt and are on the cusp of achieving profitability.
Disclosure: You could collect an average of $3,268 in extra monthly cash with ...
more