3 DRIP Stocks With 4% Yields
If dividend stocks provide investors with predictable income, then DRIP stocks offer significant long-term growth potential.
As a result, DRIP stocks allow you to own more shares of the company or fund over time, making them an excellent way to consistently grow your wealth by compounding your returns.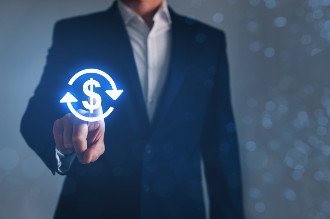 Dividend reinvestment plans (DRIPs) are a simple, wealth-compounding process that uses dividends paid by the company or fund to buy more shares of that same investment. These shares are often commission-free, and they enable investors to buy fractional shares. Some even offer discounts on shares via DRIP.
However, not all dividend stocks are good DRIP investments...
Take dividend yield, for example.
You want to make sure your money is working for you and that you're investing in good companies that return some of their wealth back to the shareholder. Don't be fooled by super high yields. What's more important is that the company is good enough to pay its dividend steadily over time, and even grow it.
Of course, your yield will fluctuate based on the share price. But your DRIP plan will remove any worry about trying to time out the market.
So, here are three DRIP stocks to buy now that have a dividend yield of 4% or higher to help grow your returns.
DRIP Stock, No. 3: 3M Co.
3M Co. (NYSE: MMM) is a company that's been around for a long time - more than 100 years.
Over the company's lifetime, 3M has raised its dividend for 63 consecutive years. Anything more than 25 annual increases qualifies an S&P 500 company as a Dividend Aristocrat. Only 65 companies have earned this status right now.
After 50 years of consecutive increases, a company earns the unofficial title as a Dividend King - an even more rare and remarkable feat.
And 3M beats that rating, which is an impressive achievement in its own right.
The dividend payout has increased at an annualized rate of around 10% over the past decade. That's roughly three times the historical rate of inflation, which means that the buying power of the dividends investors receive have actually grown over time.
Disclaimer: Any performance results described herein are not based on actual trading of securities but are instead based on a hypothetical trading account which entered and exited the suggested ...
more