3 Cheap Stocks To Buy In Q3 For Big Upside
All three major U.S. indexes surged Tuesday, quickly rebounding from Monday's rough session that marked the continuation of a recent pullback. The Dow and the Nasdaq both jumped 1.6% on the day, while the S&P 500 climbed 1.5% higher. The ultra-fast rebound highlights the broader bullish sentiment on Wall Street as we begin Q3.
Bond yields also slipped to start the week, with the 10-year U.S. Treasury touching its lowest levels since February. The move lower over the last few months has been driven by a combination of technical factors, including short-covering, along with lower summer supply, a return to safety globally, and more.
The Delta coronavirus variant and economic slowdown worries were blamed for the market's decline over the past week. But Tuesday's rebound could mean profit-taking and healthy selling caused the drop. The recent pullback might continue, with the second-quarter earnings season possibly used as a chance to take more profits from soaring tech stocks like Microsoft (MSFT Quick Quote MSFT - Free Report).
The nearby S&P 500 chart over the last year showcases why investors with long-term outlooks should do their best to avoid attempting to time the market. The need to stay exposed to the market might make more sense given the strong earnings picture and the economic growth in a reopened U.S.
On top of that, bond yields are set to remain historically low even when the Fed raises rates, leaving Wall Street to keep chasing returns in the stock market. So we dive into three cheap, highly-ranked stocks trading well below their highs that offer investors plenty of upside potential in July and beyond…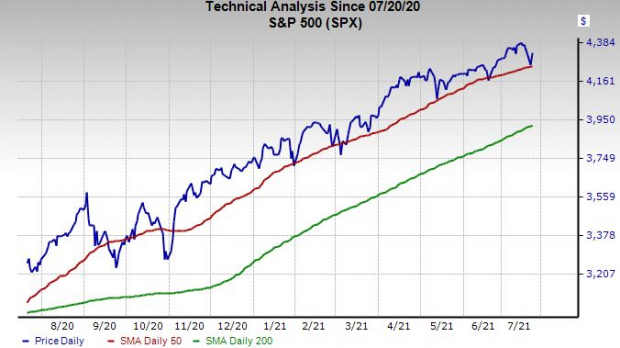 Image Source: Zacks Investment Research
Conn's, Inc. (CONN Quick Quote CONN - Free Report)
Prior Close: $23.17 USD (close of regular trading Tuesday, July 20)
Conn's is a specialty retailer that operates around 150 locations in states including Arizona, Colorado, Florida, Georgia, Nevada, Texas, and many others in the American South and Southwest. The company sells everything from furniture and appliances to consumer electronics such as TVs and computers.
Conn's pitch to customers and Wall Street in a space that includes Best Buy (BBY Quick Quote BBY - Free Report) and Amazon (AMZN Quick Quote AMZN - Free Report) is that it offers flexible in-house credit options, as well as third-party financing programs and third-party lease-to-own payment plans.
Disclaimer: Neither Zacks Investment Research, Inc. nor its Information Providers can guarantee the accuracy, completeness, timeliness, or correct sequencing of any of the Information on the Web ...
more