2020 Is Ending With 93% Of Global Economies Contracting... And With Markets At All Time Highs
As BofA's European credit strategist, Barnaby Martin, puts it in one of the final issues of his European Credit Strategist report for the year, "2020 is ending with one of the most predictable and potent themes of the last decade: central bank activism."
Case in point: on Thursday the ECB doubled down on more of the same as it delivered more PEPP, longer PEPP, further reinvestments and an extension of favorable TLTRO conditions. According to Martin, "while not as novel as some of the ECB meetings gone by, the aim of Thursday's package was to maintain "favorable" funding conditions across all markets (to ensure the swift return of business and consumer confidence)." For those who missed it, this is what the ECB did, to quote Martin:
Lagarde gave bond markets another dose of PEPP: a €500bn increase in the envelope and an extension of buying until March 2022. Thus, big QE will still be with markets for some time.

But as this week's PEPP disclosure shows, the programme is now almost exclusively about buying government debt (Chart 13). Instead, weekly APP has become more relevant for gauging the pulse of ECB corporate bond buying (Chart 14). Notice how the share of corporate bond buying has been rising here.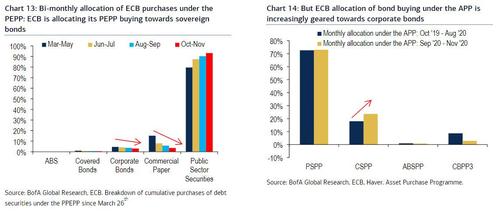 Although the euro spiked and markets appeared initially disappointed by the ECB's measures, by the end of the day "longer-end rates had rallied and IG credit spreads were broadly unchanged" Martin writes and adds that "what's clear is that financial repression lives on for another year…a bullish backdrop, which will continue to elicit a thirst for yield across debt markets, in our view."
Just in case it's not that "clear", the BofA strategist explains that the message from the ECB is that "the key message underlying everything was that favourable financing conditions must be preserved across all markets: banks, sovereigns and corporates." And as he further notes, what the ECB did "should be thought of as akin to Yield Curve Control for credit." Which also means that if corporate yields are under lock and key for 2021, "then credit vol likely will sink further next year, continuing to support the thirst for yield and compression trade in credit."
Disclaimer: Copyright ©2009-2020 ZeroHedge.com/ABC Media, LTD; All Rights Reserved. Zero Hedge is intended for Mature Audiences. Familiarize yourself with our legal and use policies every time ...
more