2020 In 12 Stunning Charts
With just one day left in what has been a dismal year, we decided to look back at the past 12 months and summarize the most notable market events and developments in 12 charts. So without further ado and courtesy of BoA's Michael Hartnett, here is...
2020 in 12 charts.
2020 was a year dominated by a virus identified in 2019, which as BofA notes, "spread into a pandemic shattering all 2020 social, political, economic and financial market predictions."
According to Hartnett, "75mn people have contracted COVID-19, and 1.7mn people have died from COVID-19 in 2020; US & Europe (Exhibit 1) harder hit than Asia."
The 1st wave of the virus Mar-May precipitated a financial market crash, lockdowns & recessions; the less deadly autumn 2nd wave did not.
(Click on image to enlarge)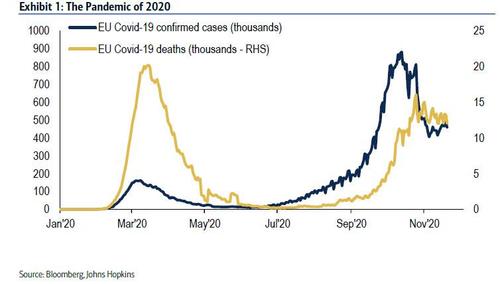 In response to the pandemic, there were multiple COVID-19 vaccines in development by the end of 2020, with several approved out with unprecedented speed/
2021 will be a year of the vaccine not the virus…BofA forecasts 1.1bn people will be vaccinated by year-end '21, a figure that dwarfs the 75mn that contracted the virus in 2020 (Exhibit 2).
(Click on image to enlarge)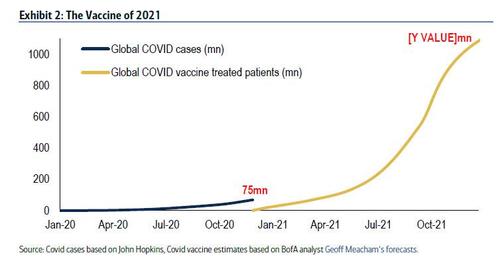 The WHO designated COVID-19 a global pandemic on March 10th, 2020.
Global credit & equity prices had fallen sharply in Feb and early-March in anticipation…credit & equity prices then went into freefall.
In less than one month $30tn had been wiped off the value of global stock markets (Exhibit 3), one of the greatest crashes of all time in both speed and magnitude
(Click on image to enlarge)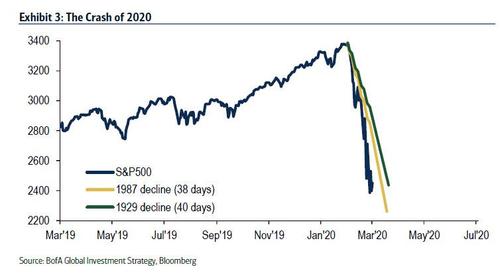 In Q2 global GDP collapsed $10tn, Chinese business confidence slumped to an all-time low, oil prices turned negative, as human "mobility" ceased (US TSA air passengers -96% YoY in April).
US unemployment rate soared to 15% as 70mn people filed for unemployment benefits in 2020 (Exhibit 4); US household savings rate jumped to an all-time high of 34%.
Disclaimer: Copyright ©2009-2020 ZeroHedge.com/ABC Media, LTD; All Rights Reserved. Zero Hedge is intended for Mature Audiences. Familiarize yourself with our legal and use policies every time ...
more