2 Highly Ranked Stocks To Consider In The Consumer Discretionary Sector
Furniture manufacturer American Woodmark (AMWD) and broadcast television provider Nexstar Media Group (NXST) are two consumer discretionary stocks that are very compelling at the moment.
Rising earnings estimates indicate there could be more upside in American Woodmark and Nexstar stock with both sporting a Zacks Rank #1 (Strong Buy).
Strengthening EPS Outlook
As one of the largest manufacturers of kitchen and bath cabinets, American Woodmark should be catching investors' attention.
Following a very strong year that saw EPS at $7.62, American Woodmark's earnings are expected to dip -14% in its current fiscal 2024 but rebound and rise 9% in FY25 at $7.13 per share. More eye-catching is that earnings estimate revisions are noticeably higher.
Fiscal 2024 EPS estimates have climbed 22% over the last 60 days with FY25 earnings estimates rising 15%. This is an indication that American Woodmark stock could keep soaring with shares of AMWD already up +43% this year.
(Click on image to enlarge)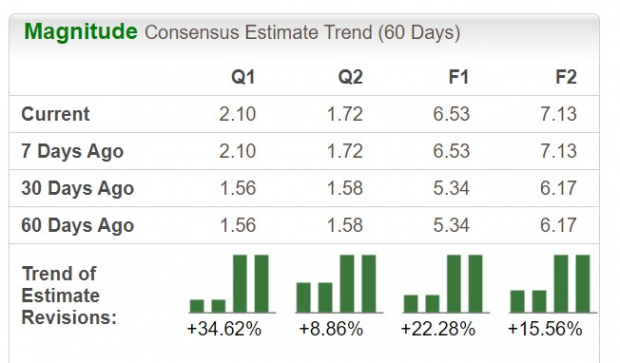 Pivoting to Nexstar, its stock is down -11% this year but appears to have hit oversold territory. While the television broadcasting and network company's rapid growth has slowed in recent years its bottom line remains robust and more expansion could lie ahead.
To that point, Nexstar's earnings are forecasted to drop -51% this year but rebound and skyrocket 128% in FY24 at $30.04 per share. Even better, over the last two months, Nexstar's FY23 and FY24 EPS estimates have jumped 18% and 15% respectively.
(Click on image to enlarge)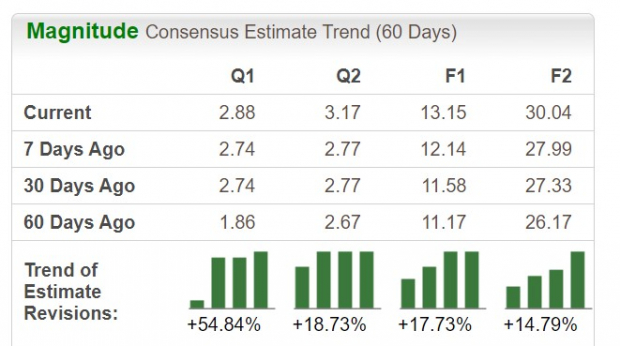 Attractive P/E Valuations
What makes the rising earnings estimates more captivating is American Woodmark and Nexstar's attractive P/E valuations.
American Woodmark stock trades at $69 a share and 10.9X forward earnings. This is roughly on par with its industry average and well below the S&P 500's 20.4X.
Furthermore, this year's rally looks like it could continue considering American Woodmark stock still trades 61% below its decade-long high of 28.2X and at a 35% discount to the median of 16.8X.
(Click on image to enlarge)

Similarly, Nexstar's P/E valuation is well below the benchmark trading at $158 a share and 13.1X forward earnings.
This is nicely beneath its industry average of 19.1X and Nexstar stock trades 35% below its own decade-long high of 77.1X and virtually on par with the median of 12.9X.
(Click on image to enlarge)

Bottom Line
The soaring earnings estimates combined with their attractive P/E valuations make American Woodmark and Nexstar Media Group's stock attractive right now. This largely attributes to their Zacks Rank #1 (Strong Buy) as the outlook for both companies has become very enticing to investors.
---
More By This Author:
Time to Buy Commercial Metals (CMC) or FedEx (FDX) Stock After Earnings?
Carnival Gears Up For Q2 Earnings: What's In Store?
Will Nike Beat Estimates Again In Its Next Earnings Report?
Disclosure: Zacks.com contains statements and statistics that have been obtained from sources believed to be reliable but are not guaranteed as to accuracy or completeness. References to any specific ...
more