2 Biotech Stocks Under $10 To Scoop Up Now
Investing in companies that are on the forefront of the biotech revolution is one of the best ways to secure a double or even triple digit return on your investments. These companies are changing the face of medicine, and Bret Jensen, an expert biotech investor, knows which are leading the way. With multiple home runs already this year, you would be wise to invest alongside him.
There is just something about an equity selling for under $10.00 a share that appeals to certain investors. Maybe it is the potential thrill of seeing a stock purchased at $8.00 a share soar to $25.00 a share in short order or just the fact that one can buy many more shares of a stock selling for $6.00 a share than one selling for $75.00 a share.
I like stocks under $10 simply because the vast majority come from the small cap arena which has been a focus area of my investing for over two decades and where most of my outsized gains have originated. It is this success and passion that led me to establish the Small Cap Gems portfolio last summer. I particularly like plumbing the small cap biotech and biopharma arenas to find these potential multi-baggers.
Some of the stocks that I originally profiled when they traded in the single digits over the last few months here at Investors Alley now comfortably trade in the mid-teens. These include ZIOPHARMA Oncology (NASDAQ: ZIOP) and Halozyme Therapeutics (NASDAQ: HALO). Hoping to find the same success here are two stocks selling for less than $10 a share that easily could be trading much higher in the foreseeable future.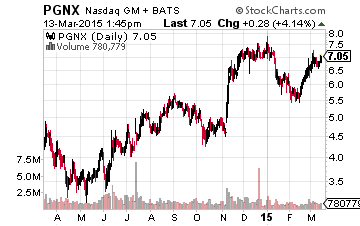 Let's start with Progenics Pharmaceuticals (NASDAQ: PGNX) which goes for some $7.00 a share. The stock is up some 50% since last time I profiled it in late October. That is a great return compared to the overall market. However, it pales in comparison to the over 300% returns achieved by the other small biotech play profiled in that article, ZIOPHARMA.
I believe Progenics has further upside and would not be surprised if the company has its stock see the $10.00 level by the end of the year, representing a 42% return. The key driver of the stock's recent outperformance is that a compound called Relistor to treat opioid-induced constipation was approved by the FDA in 2014. Relistor was developed with partner Salix Pharmaceuticals (NASDAQ: SLXP).