10 Clean Energy Stocks For 2020: The Waiting
Despite high valuations, a rampaging pandemic, and the end of the $600 weekly supplemental unemployment payments from the CARES Act, the stock market continued upward in August.
Like most ordinary people in this economy, my Ten Clean Energy Stocks model portfolio is still not feeling the recovery the way the big tech companies and the ultra-wealthy are, although my real-money Green Global Equity Income Portfolio (GGEIP) is now hitting new highs for the year.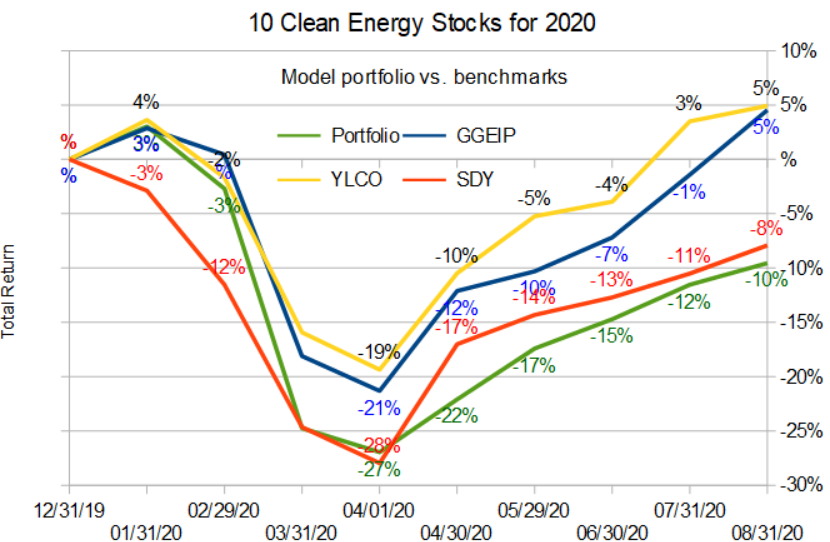 The difference between the model portfolio's performance and GGEIP is mostly a result of trading: It had a large cash position at the start of the year, did a lot of buying in March, and is now moving back towards cash. I try to keep trading in the model portfolio to a minimum, and that and the general lack of tech names has kept it from fully participating in the market's stunning rally.
I generally try not to trade in the model portfolio for two reasons. First, I want the strategy to be replicable by people who have only a casual interest in the stock market and tend not to adjust their portfolios more than a couple of times a year. When I do trade, it is only at the start of the month, in line with these updates.
The second reason is that market timing is very difficult to do. To buy near the bottom, you have to take risks despite the fear that a falling market causes. To not buy at the top, you also have to conquer fear: the fear of missing out.
The Waiting
The waiting is the hardest part

Every day you see one more card

You take it on faith, you take it to the heart

The waiting is the hardest part

— Tom Petty and The Heartbreakers. The Waiting, Chorus.
When Tom Petty sang "The waiting is the hardest part" he was not talking about the stock market, but he could have been. For me at least, the hardest part of stock market investing is battling that fear of missing out. This is probably because stock market bottoms tend to be short, and the right thing to do at a bottom is to act… to buy. I use my fear itself as a signal that it probably is a good time to buy. I know this because if I'm feeling fear, other investors are, too, and they are acting on that fear, driving the market lower.
Disclosure: Long positions all the stocks in the model portfolio, although NFYEF is now a very small position.
Disclaimer: Past performance is not a guarantee or a ...
more