Stock Market Education: Astrology
There are many methods used to help aid in investment decisions.
Of all the different tools there is nothing more otherworldly than stock market astrology, literally.
This article will touch upon stock market astrology as well as discuss separating alpha from noise.
I am probably the last person to be qualified to write an article on the merits of stock market astrology. Until I was 10, I believed my zodiac sign was a Taurus.
Actually, I am a Leo.
Thus, I am going to approach this article from a critical academic standpoint. Perhaps not giving it enough research but asking the important questions.That may be unfair, so feel free to leave a critique.
I would be interested to read any large-scale studies verifying the merit of using astrology in the stock market.
What Is Stock Market Astrology?
Stock market astrology is the practice of relating movements of planets and other celestial cycles to returns in the financial markets.
The idea is that by studying astrology we can take advantage of certain stocks and sectors depending on certain times that these move in and out of favor. Hence creating excess returns from the market.
Below we have the astrological data for a day.
We can see that over the course of the day we have different forces in effect with the movements of planets and moons. Inherently each day is different as the planets, moons, and earth orbits.
By equating these planets to certain financial conditions, it can provide a "signal" for an astrological trade.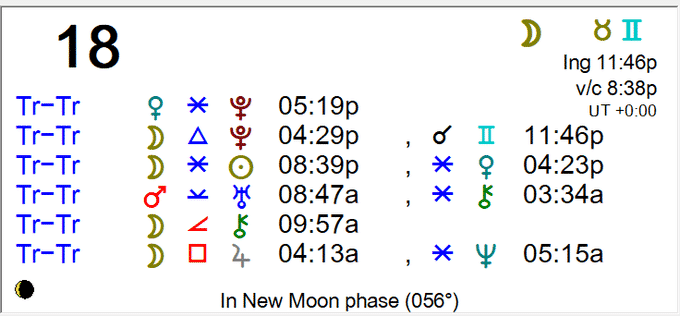 Source https://twitter.com/AstroGann33
Additionally, we have points or "transits" that are specific to individual users.
Thus, according to stock market astrology, we may be lucky if we place our bets at the ideal time for our personal transits, shown below.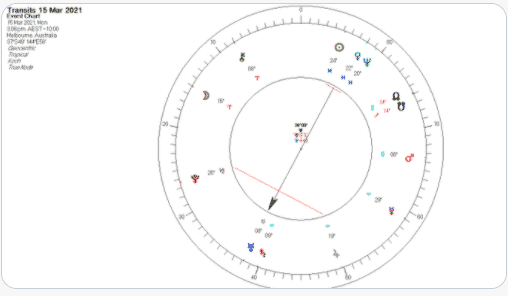 Source https://twitter.com/AstroGann33
Does It Work?
In researching this article, I had a look at SSRN (Social Science Research Network) to see if there had been any papers written recently on stock market astrology, nothing.
Disclaimer: The information above is for educational purposes only and should not be treated as investment advice. The strategy presented would not be suitable for investors who are ...
more