Stock Exchange: Who Moved My Cheese?
The Stock Exchange is all about trading. Each week we do the following:
discuss an important issue for traders;
highlight several technical trading methods, including current ideas;
feature advice from top traders and writers; and
provide a few (minority) reactions from fundamental analysts.
We also have some fun. We welcome comments, links, and ideas to help us improve this resource for traders. If you have some ideas, please join in!
Review: Near-Term Momentum Versus Long-Term Fundamentals
Our previous Stock Exchange asked the question: How do long-term fundamentals impact your near-term trading thesis? As an example, we compared the near-term technical strength of monthly dividend REIT, Realty Income (O) to its long-term fundamental valuation. When they're aligned, that's one thing, but when they're opposed that's something entirely different.
This Week: Who Moved My Cheese?
As you may recall, Who Moved My Cheese was a popular business fable published in 1998 that remained on the New York Times business best seller list for almost 5 years. It was basically a parable about how to thrive in a world of change an uncertainty, as told through a tale of two mice (Sniff and Scurry) and two humans (Hem and Haw) living in a maze and constantly searching for cheese. And there's an important takeaway for traders to learn, mainly that instead of constantly hemming and hawing about how the market is supposed to behave, successful traders can offer sniff and scurry their way into learning new things and adapting to find success in a constantly changing marketplace.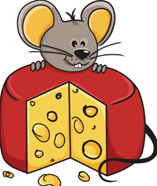 For example, trading psychologist, Dr. Brett Steenbarger, does an excellent job (as usual) describing The Perils of Trading Your Plan where he writes:
"We commonly hear the advice that traders should "stick to their plans" and that planning and remaining true to plans is the epitome of discipline and the key to success. It ain't necessarily so."
We have a new (free) service to subscribers to our Felix/Oscar update list. You can suggest three favorite stocks and sectors. We report regularly on the "favorite fifteen" in each ...
more