Stock Exchange: Is The Market's Momentum Back?
The Stock Exchange is all about trading. Each week we do the following:
discuss an important issue for traders;
highlight several technical trading methods, including current ideas;
feature advice from top traders and writers; and
provide a few (minority) reactions from fundamental analysts.
We also have some fun. We welcome comments, links, and ideas to help us improve this resource for traders. If you have some ideas, please join in!
Review: Who Moved My Cheese?
Our previous Stock Exchange asked the question: Who Moved My Cheese? It was a reference to a popular business fable from 1998, and we discussed the importance of understanding that the market is dynamic and trading strategies should be too. Building on last week's topic, we get a little more specific this week in discussing the dynamics of momentum trading.
This Week: Is The Market's Momentum Back?
If you don't know, momentum trading is a strategy whereby traders buy or sell according to recent price trends. For example, if a particular stock (or the overall market) has been rising, a momentum trader might buy that stock (or the overall market) in anticipation of continuing near-term price increases. There's more to it than that (for example, is the direction supported by high trading volume, or how long should a trader ride the momentum), but in a nutshell–that's the strategy.
Not surprisingly, the top US momentum ETF recently suffered huge outflows as our raging bull market turned bearish in the fourth quarter, as shown in the following chart.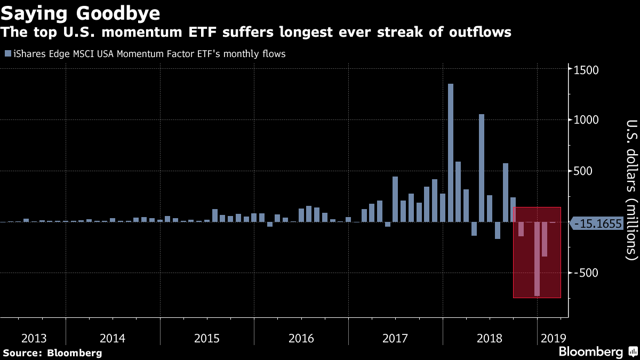 According to Sean Phayre, global head of quantitative investments at Aberdeen Standard Investments:
"Momentum is not a great factor for turning points when there's factor volatility because it's in the process of reconstituting itself.."
We generally agree with that notion, and we took it to heart as our momentum trading models exited their positions, and only recently (within the last few weeks) started reallocating significant capital to momentum trades.
We have a new (free) service to subscribers to our Felix/Oscar update list. You can suggest three favorite stocks and sectors. We report regularly on the "favorite fifteen" in each ...
more