Stock Exchange: Climbing The Wall Of Worry - July 4, 2019
The Stock Exchange is all about trading. Each week, we do the following:
Discuss an important issue for traders;
Highlight several technical trading methods, including current ideas;
Feature advice from top traders and writers; and
Provide a few (minority) reactions from fundamental analysts.
We also have some fun. We welcome comments, links and ideas to help us improve this resource for traders. If you have some ideas, please join in!
Review: Are You Missing The Big Picture?
Our previous Stock Exchange asked the question: Are You Missing The Big Picture? We noted that with trading, it's easy to get lost in the minutiae. Specifically, traders often get so caught up in the details of the day-to-day that they lose sight of the big picture.
This Week: Climbing The Wall Of Worry
Despite a non-stop flow fear mongering from the media, the market continues to climb the wall of worry. For example, we just hit fresh all time highs in the S&P 500, and we just completed the best first half of the year in many years. Charlie Bilello does a good job of summing up the market's strength in his recent tweet citing lots of strong data points, as follows: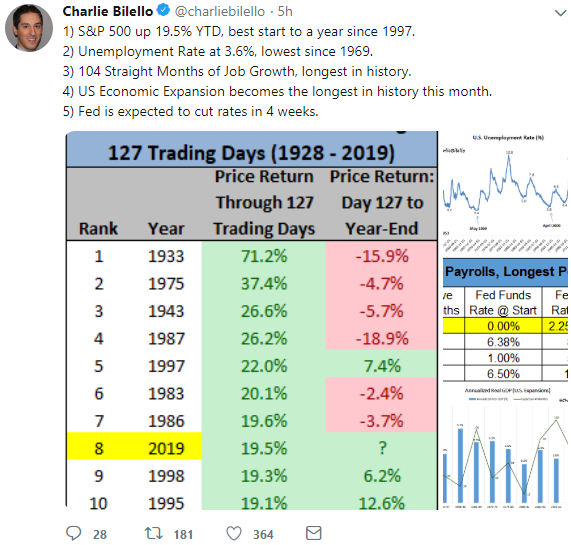 Those are some fairly compelling data points, and they come following lots of negativity and worry by many in the media. Of course for some investors, perhaps contrarians in particular, the fact that the market has done so well lately provides more nervous fuel that "we're due" for a bit of a pullback?
A question worth asking yourself… "Is your nest egg at the mercy of the stock market? And to what extent?"
For example, if you simply own an S&P 500 index fund, you're going to basically return whatever the stock market returns, and that means if the market takes a nosedive then so too will your portfolio also take a nosedive.
Historically, the conventional wisdom has been to diversify some of your stock market risk away by owning high quality bonds. But the problem with that strategy now is that with the 10-year treasury again recently dipping below 2% so too have the yields on investment grade corporate bonds to the extent that their returns are just not very compelling to many investors.
So what's an investor to do if they want to earn a return without being at the mercy of a rapidly climbing stock market that makes many investors nervous? The market is up a lot this year, but you only have to look back to the fourth quarter of last year to see how the market can turn ugly quickly. And while the recover to that sell-off was fairly quick, it took considerably more time for the market to recover from a considerably larger pullback during the financial crisis, which really wasn't that long-ago to those of us that have been participating in the markets for a while.
We have a new (free) service to subscribers to our Felix/Oscar update list. You can suggest three favorite stocks and sectors. We report regularly on the "favorite fifteen" in each ...
more