Silvergate: A Pick And Shovel Play For Digital Currency On The NYSE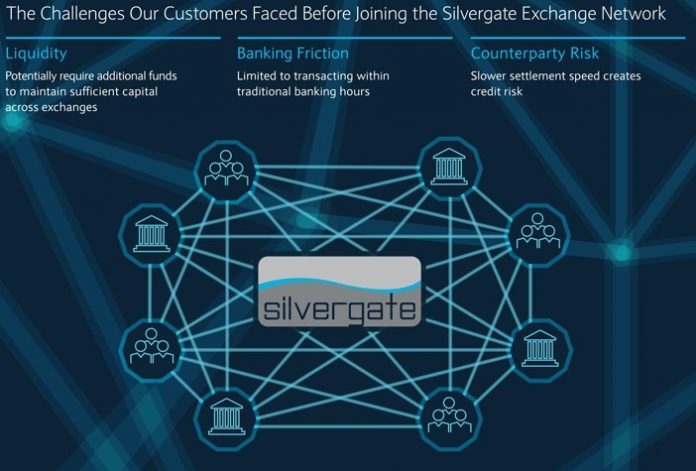 It is tough for retail investors to play digital currencies like bitcoin (BITCOMP) or ethereum (ETH-X).
Buying a position means wire transfers and digital wallets, the worry of hacks or hard drive failures. Many of us are still nervous about sending a sizable chunk of our net worth out to the crypto-ether.
For a time, it seemed like digital currency miners might be a viable alternative. But that had its own pitfalls – not the least of which was that the miners were not very profitable.
There was constant equipment upgrades and accelerating mining difficulty – not to mention the volatile price – and most of the public miners have had to dilute to keep the lights on.
At InvestingWhisperer I am on always on the look-out for new ways to play digital currencies without having to buy the tokens. We made a good bet recently by betting on blockchain adoption – a key part of the Overstock (OSTK) story that has become a huge winner for subscribers.
Another way to play the adoption angle is via Silvergate Capital (SI). Silvergate stands to benefit as more investors get into the space.
Silvergate is a picks and shovel play on digital currencies. They do not operate on the blockchain or even directly hold Bitcoin. Instead, Silvergate is a bank; in many ways, a plain vanilla bank—but one with a twist.
Most of Silvergate's operation looks a lot like any other small bank. Silvergate takes in deposits and lends out money. They lend to all same, traditional borrowers that any other bank does. They make loans to single family homes, multi-family residences, commercial real estate, and mortgage loan warehousing.
Source: Silvergate Third Quarter Earnings Presentation
Where Silvergate is different is on their deposits. 95% of their deposits are from digital currency participants.
Silvergate's depositors include 64 crypto exchanges, including some of the largest, like Coinbase, Genesis Kraken, and Bitstamp. They also have nearly 600 institutional investors as well as 250 other participants such as miners, stablecoin issuers, and blockchain platform operators.
A couple of points about these deposits:
1) these are ALL US dollar deposits. Silvergate does NOT hold Bitcoin or any other digital currency directly.
Disclaimer: Under no circumstances should any material in this site be construed as an ...
more