Should You Become An Actuary?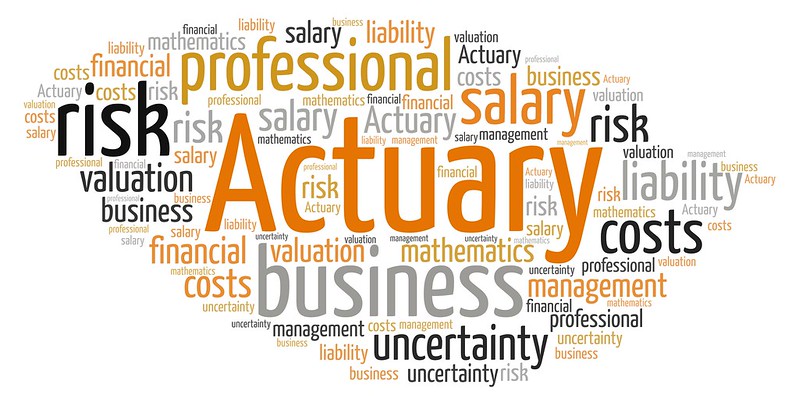 Image credit: Word Cloud by Epic Top 10 || It is a great profession, but for most people, the exams are tough.
Note: at the end of this article, there is a note on GameStop.
Here's a letter from a reader:
David,
I am a longtime reader of your blog, which I enjoy greatly. I will retire from the military in about three years and am considering becoming an actuary via self-study and taking the requisite exams. Given your experience in the field, I would like to ask you some questions:

1. If I do this, will anyone hire me, or is this field one that strictly recruits new graduates from certain established schools? My degrees are in Chemical and Aeronautical Engineering (BS & MS respectively) if that matters.

2. If this is a reasonable path to take, which organization's certifications should I pursue (SoA or CAS)?

3. How do I go about applying for positions outside of a formal recruitment process (e.g. one established for recent graduates)?

Thank you for your time and attention.

Recent email
I haven't gotten an email like that in a while. You can become an actuary if you are good at math, statistics, quantitative methods, and are reasonably good at taking exams. That can get you in the door, but oddly, there's another set of skills that the best actuaries have. Let me phrase it in terms of questions:
Do you like solving business problems?
Can you write and speak well in the language of the company that you want to work for?
Can you come up with creative solutions to problems?
Do you like solving mysteries, without forgetting that time is limited?
It is helpful to have a few ancillary skills like programming, knowledge of accounting, investing, business, economics, law, etc. You can pick up a lot on the way. At certain companies with foreign subsidiaries, knowing a foreign language could help.
Disclaimer: David Merkel is an investment professional, and like every investment professional, he makes mistakes. David encourages you to do your own independent "due diligence" on ...
more