Should I Invest In An IPO?
Just Because You Can Invest in an IPO, Doesn't Mean That You Should
Sometimes it feels like the best time to invest in stocks is 50 years ago—not an encouraging thought for someone looking to get started investing in 2018! Since it seems like everything good is already too expensive to start investing in, you might wonder if you should invest in an IPO.
An IPO, or an Initial Public Offering, is when a company first makes its stocks publicly available for purchase. This typically happens when the company is young and hip and has potential for some serious growth.
Sometimes it can be advantageous to invest early. If a stock does increase in value rapidly, it's always better to have bought early to make the most profit. But there are a few thinks you should take into consideration before you decide if it is a good idea to invest in an IPO.
Some Experts Recommend Waiting 6 Months Before You Invest in an IPO
Dylan Lewis and Michael Douglass from The Motley Fool recommend waiting at least 6 months, if not a year, before investing in an IPO.
Their reasoning is sound: IPOs are designed to help companies raise money. If the company is going public with its shares, the owners know that the company looks appealing right now. That may not be the case in the near future.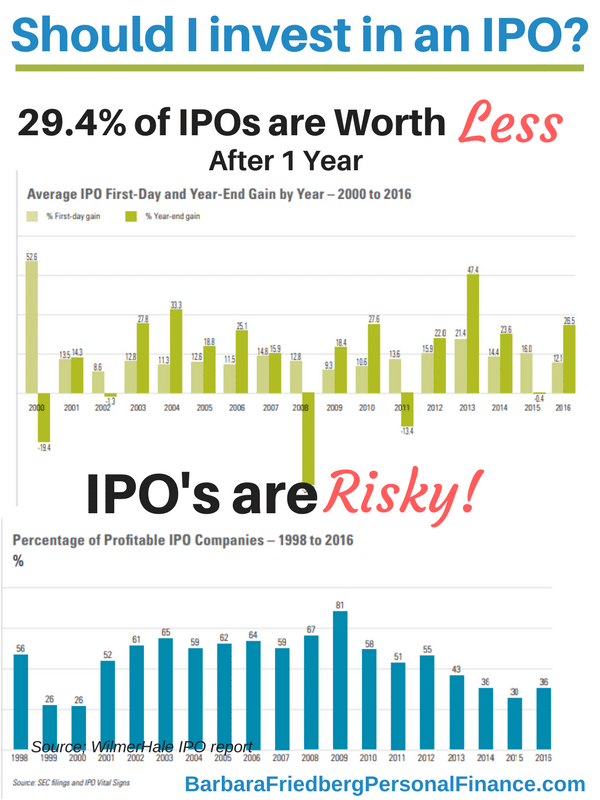 IPOs can be volatile in the begging investing stages, so waiting it out and seeing how the shares fare over a 6-month period can be a good indicator of how this IPO will perform for you. (Although nothing is guaranteed in the stock market!)
IPOs are Not Get Rich Quick Schemes
It is a good idea to invest in an IPO if you have time to spare.
Some IPOs do amazingly well within the first few weeks—some double their worth!
That's the good news, though. Even successful companies that many of us use, like Blue Apron and Groupon, dropped substantially after they released their IPOs: 40% and 90%, respectively.
If you have time to wait out the rollercoaster of an IPO's first few years, it might be a good move to invest in an IPO.
Disclaimer: I am a former portfolio manager, former university finance instructor, and successful investor committed to sharing my personal finance expertise with you. I am not a licensed financial ...
more