Sell These 3 Top Retail Investments Likely To Cut Dividends In 2020
Dividend-paying stocks with very high yields are priced that way to price in the probability of a dividend cut. The higher the yield, the greater the potential for a dividend reduction, at least in the opinion of the investing public. The concept to grasp about high-yield stocks is that whether the dividend gets cut on a particular stock is a binary outcome. Either it won't get reduced, which means investors earn a very attractive yield and cash flow from the stock or the dividend does get cut.
If that's the case, even though the market has "priced in" a dividend cut with the higher yield when an actual dividend reduction is announced, the share price often drops by a significant amount. It is even more painful when the dividend on a high yield stock gets cut.
My Dividend Hunter service provides guidance and recommended investments for those who want to build a high yield stock portfolio. I analyze hundreds of high yield stocks to populate a recommendations list with those (with those what?) where my research shows the dividends are secure, despite the high yield pricing of the shares. Very few stocks with yields of 7% or higher meet my criteria to recommend them to subscribers.
The most basic criteria for a high yield stock is to determine if the company is generating free cash flow greater than the amount paid to investors as dividends. I would also like to see a growing cash flow per share. If a company goes for an extended period without covering the dividend, a dividend cut may be the only solution, even if management doesn't want to do that to investors.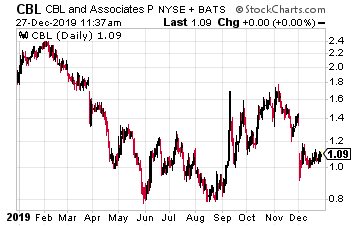 Here are three shopping center real estate investment trusts (REITs) that may not earn enough in 2020 to pay the dividends and are forced into dividend reductions. In early December mall REIT CBL & Associates (CBL) showed an early warning sign when they announced they would be suspending all common and preferred stock dividend payments.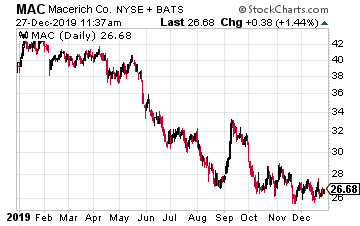 The Macerich Company (MAC) is an owner and operator of high-end "Class A" shopping malls. The Macerich website claims the company owns "unique and irreplaceable properties and dominant position in the nation's gateway markets — the most affluent and densely populated with a significant international appeal." Sounds good.
Disclaimer: The information contained in this article is neither an offer nor a recommendation to buy or sell any security, options on equities, or cryptocurrency. Investors Alley Corp. and its ...
more