Mortgage Rates Headed To Below 5%
Image Source: Unsplash

This week, I spoke with real estate and mortgage expert Barry Habib, founder and CEO of MBS Highway. At the SIC 2022 in May, Barry accurately predicted that inflation would rise further and that mortgage rates would go up, creating a rough patch for the mortgage industry and homebuyers.
In this Global Macro Update, he talks about mortgage rates, and why they'll soon drop to below 5%... how limited home inventory will impact the US real estate market for years to come… how to get 320% returns or more within less than a decade... need-to-know strategies for first-time homebuyers... and much more.
The video of my full conversation with Barry Habib is below.
Read on for a summary…

Has the Housing Market Peaked?
You've likely heard stories from family and friends about how they got beat out by an all-cash offer that was $20,000 over the asking price for a house.
But that scenario may be about to reverse...
History tells us that once the Fed started raising rates earlier this year, home prices will come down. So far, that hasn't been the case. The 30-year fixed-rate mortgage started the year at 3.11% and has shot up to 6.66%. That's an increase of 114%.
In the same period, home values rose approximately 10.4%.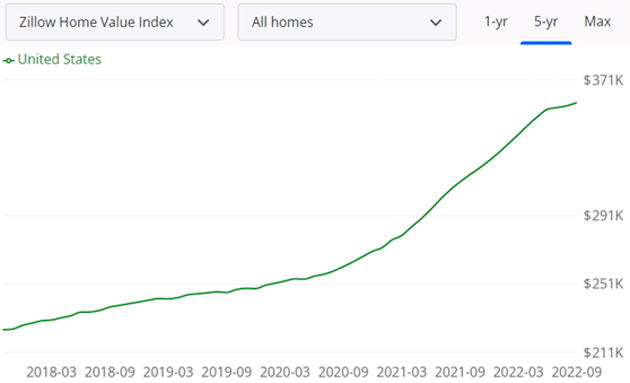 Source: Zillow.com
So why are home values still rising? And when will mortgage rates come down, as Barry predicts, creating a great opportunity for homebuyers and real estate investors? What's the better deal—buying or renting? And how are multi-family homes faring as investments? I discuss these and many more questions with Barry.
But first, our market recap...

A Quick Look at the Markets This Past Week…
(as of Oct. 13, 2022)
Gold was down 1.7% to $1,671.
The average 30-year mortgage rate rose from 6.66% to 6.92%.
Yields on 10-year Treasuries increased from 1.8% to 3.95%.
The S&P 500 increased .83% to 3,670.
Bitcoin was down .94% at $19,363.
Oil was down 3.8% at $89.13/barrel for WTI.
Video Length: 00:31:44
---
More By This Author:
Currency Crescendo
It's Not Enough To "Invest In What You Know"
Notes On Inflation
Disclaimer:The Mauldin Economics website, Yield Shark, Thoughts from the Frontline, Patrick Cox's Tech Digest, Outside the Box, Over My Shoulder, World Money Analyst, Street Freak, Just One ...
more