More 'Double Nets'- The Search For Deep Value
Last week's piece on "Double Nets", or companies trading at between 1 and 2 times net current asset value (NCAV) featured Ingram Micro (IM) as the largest of the cheapies utilizing this homegrown method designed to identify potentially cheap companies. Last Friday's 12% move in Ingram, following a better-than-expected earnings report, and the initiation of a 10 cent quarterly dividend, was pure coincidence. While deep value investors gain satisfaction when their ideas bear fruit, we are also the first to admit that such short-term moves are random. Seldom do any of our ideas result in instant gratification, and many take years to play out. So there's today's disclaimer. Credit only where credit is due.
By way of reminder; below are the criteria I utilize when identifying "double nets"; it's a fairly simple approach
Market cap greater than $250 million (although I will also run the same search for smaller names, and will feature some of these in a future piece)
Companies trade on a major exchange and are domiciled in the United States
Trading at between 1 and 2 times NCAV (defined as current assets minus total liabilities)
No financial companies
Once you get past the Ingram Micro's of the world, and the eight current qualifiers with market caps in excess of $1 billion, you are left with much smaller companies, many of which may not be familiar.
Ultratech (UTEK), which manufactures laser thermal processing and inspection equipment, currently trades at 1.16 times NCAV. The company ended the latest quarter with nearly $280 million, or more than $10 per share in cash and marketable securities. Shares are down about 36% year to date, and currently trade at 31 times 2016 consensus estimates.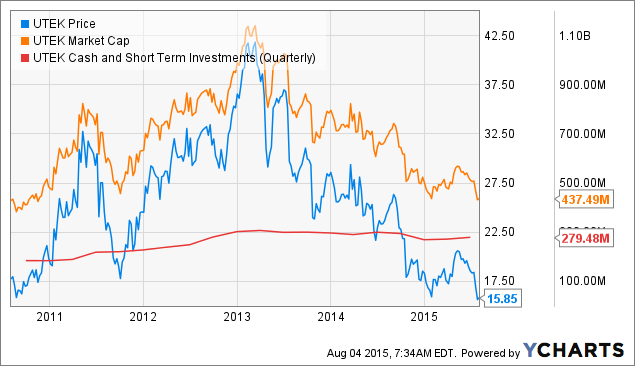 UTEK data by YCharts
Oil well services company Tesco (TESO), which has seen its shares have over the past year, currently trades at 1.47 times NCAV. A victim of falling energy prices, TESO ended its latest quarter with $69 million or $1.77 per share in cash, and no debt. The company is expected to be in the red for 2015, and given that the industry is out of favor, the ride forward may be bumpy. TESO currently yields 2.2%.
Disclosure: I/we have no positions in any stocks mentioned, and no plans to initiate any positions within the next 72 hours.
I wrote this article myself, and it expresses ...
more