Gladstone Land - Not Your Typical REIT
Summary
100% technical buy signals.
16 new highs and up 22.16% in the last month.
145.52% gain in the last year.
I find one of the most effective ways to find stocks with great momentum is to use screeners to create watchlist then use the sort features to ranks the stocks in the watchlist to the attributes I'm looking for.
My Barchart Chart of the Day belongs to the farming REIT Gladstone Land (LAND). I found the stock by sorting Barchart's Top Stocks to Own list first by the most frequent number of new highs in the last month then used the Flipchart feature to review the charts for consistent price appreciation. Since the Trend Spotter signaled a buy on 11/9 the stock gained 43.10.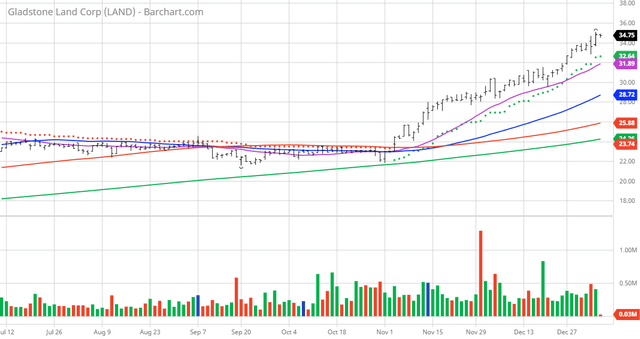 Founded in 1997, Gladstone Land is a publicly-traded real estate investment trust that acquires and owns farmland and farm-related properties located in major agricultural markets in the U.S. and leases its properties to unrelated third-party farmers. The Company, which reports the aggregate fair value of its farmland holdings on a quarterly basis, currently owns 127 farms, comprised of approximately 94,000 acres in 13 different states, valued at approximately $1.0 billion. Gladstone Land's farms are predominantly located in regions where its tenants are able to grow fresh produce annual row crops, such as berries and vegetables, which are generally planted and harvested annually. The Company also owns farms growing permanent crops, such as almonds, apples, figs, olives, pistachios, and other orchards, as well as blueberry groves and vineyards, which are generally planted every 10 to 20-plus years and harvested annually. The Company may also acquire property related to farming, such as cooling facilities, processing buildings, packaging facilities, and distribution centers. The Company pays monthly distributions to its stockholders and has paid 93 consecutive monthly cash distributions on its common stock since its initial public offering in January 2013. The Company has increased its common distributions 20 times over the prior 23 quarters, and the current per-share distribution on its common stock is $0.0449 per month or $0.5388 per year.
Barchart technical indicators:
100% technical buy signals
143.42+ Weighted Alpha
145.52% gain in the last year
Trend Spotter buy signal
Above its 20, 50, and 100 day moving averages
16 new highs and up 22.16% in the last month
Relative Strength Index 76.01%
Technical support level at 33.99
Recently traded at 34.67 with the 50-day moving average of 28.72
Fundamental factors:
Market Cap $1.20 billion
P/E 54.86
Dividend yield 1.61%
Revenue is expected to grow 27.60% this year and another 17.60% next year
Earnings are estimated to increase 42.90% next year
Analysts and Investor sentiment -- I don't buy stocks because everyone else is buying but I do realize that if major firms and investors are dumping a stock its hard to make money swimming against the tide:
Wall Street analysts have issued 2 strong buy, 1 buy, and 5 hold opinions on this stock
The individual investors following the stock on Motley Fool voted 37 to 3 for the stock to beat the market with the more experienced investors voting 5 to 1 for the same result
15,780 investors are monitoring the stock on Seeking Alpha
Conclusion: I think this stock has a lot going for it. Some of the recent articles on this stock have been neutral but I think the authors are missing an important consideration. REITS are hot right now and a rising tide floats all boats -- but this is not a normal REIT! Most REITs own buildings that they rent out so approximately 85% of their balance sheet consists of a depreciating asset, the building and only 15% an appreciating asset the land underneath. This REIT owns land and rents it out to others to farm giving them a positive cash flow while holding land that can only go up. Better give this one a second look.
Disclaimer: The Barchart Chart of the Day highlights stocks that are experiencing exceptional current price appreciation. They are not intended to be buy recommendations as these stock are ...
more