Finally, The Housing Crash
Spiking interest rates are normally a death knell for homebuilders, for obvious reasons. Higher mortgage rates raise monthly payments, which crash house prices, which make existing houses cheaper than newly built ones, which causes demand for new houses to shrink, which causes homebuilders to lay off their workers and sell their spec houses and excess land at a loss. And so on until investors abandon the sector. Here's the chart for two big homebuilders during the last housing bust: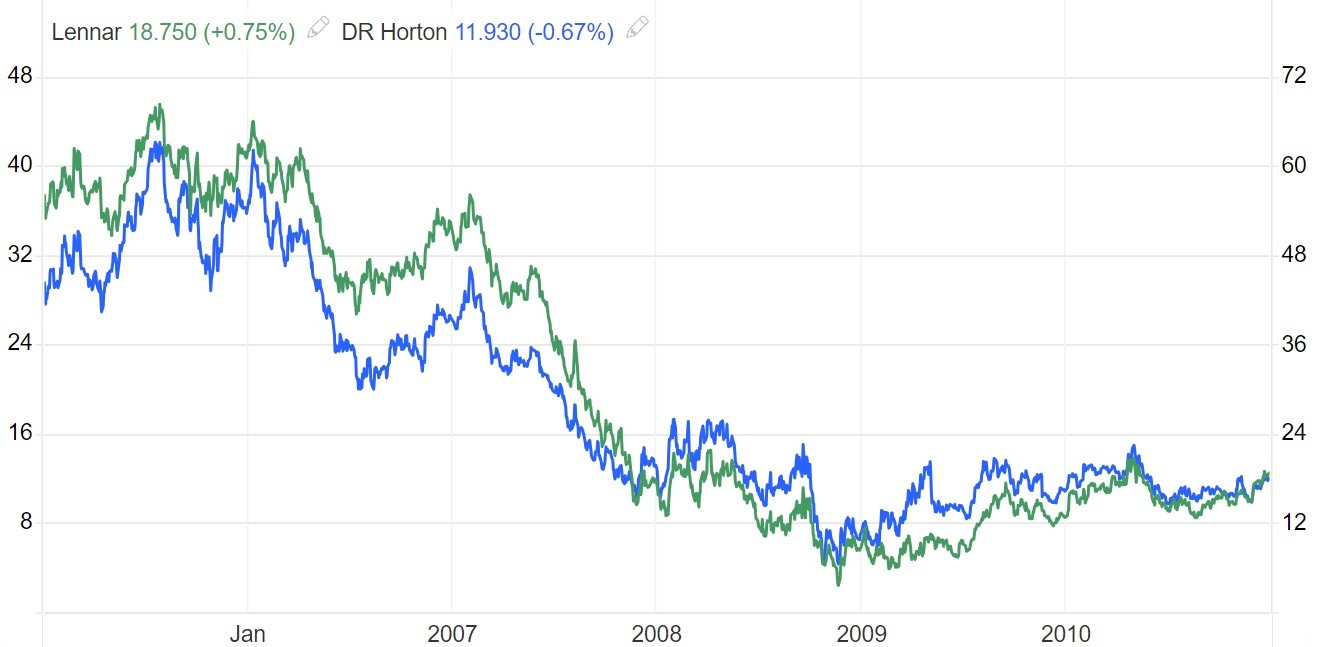 Now fast forward to early 2023. Mortgage rates were heading back to 2007 levels, effectively doubling monthly payments on what were already unaffordable houses. Sales were falling as buyers couldn't buy and sellers — locked into their 3% mortgages from easier times — wouldn't sell. Another housing bust certainly seemed imminent, which is why I added three homebuilders to our portfolio as short candidates.
But the crash didn't come. Homebuilder order backlogs stayed full, cash flow remained robust, and the stocks went up. Warren Buffett even bought the homebuilders aggressively.
Reality bites
But now, finally, housing has started to behave in understandable ways — and the homebuilder stocks are falling back to earth. Here are our three short positions so far today:


Shortage becoming a glut
The "shortage of homes for sale" story turned out to be a distortion of on-the-ground reality. Homebuilders are putting up huge numbers of spec houses, many for the buy-to-rent market, that aren't yet showing up in MLS databases — but will soon. To move this inventory, builders are forced to offer free upgrades and "mortgage rebates" that don't show up in reported sale prices but do cut into homebuilder profit margins.
Airbnb has turned out to be a way tougher business than the entrepreneurs who bought multiple houses and apartments expected. In the year ahead they're going to panic-sell much of what they bought in the recent past.
Last but not least, the rapacious private equity firms that bought up whole neighborhoods and converted them to rentals are realizing that they got in at the very peak of a historic housing bubble. Now they've stopped buying and started selling, and will be net sellers — maybe, as with Airbnb, panic sellers — for years to come.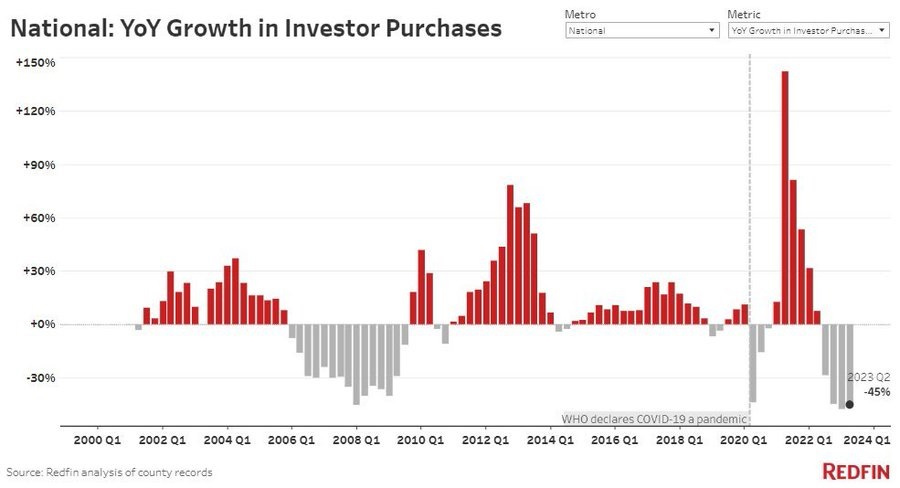 A few articles to give a sense of the coming carnage:
Home sales plunge 21 percent as housing market continues to struggle

New data from the National Association of Realtors show continued declines in the number of existing home sales over the past year.

The number of previously occupied homes sold in the United States dropped by 21 percent over the past year, according to new data from the National Association of Realtors (NAR) released Thursday.

That's on top of an 18 percent annual decline the year before, indicating the housing market has continued to slow down amid rising interest rates.

"Perhaps there could be some recovery taking place, but the last couple of data releases are implying no," said Lawrence Yun, the NAR's chief economist. "Things are slumping down again."
---
US Homebuilder Confidence Falls to Lowest Since April, Says NAHB

U.S. homebuilder confidence fell for a second month in September, with optimism dropping to the lowest since April as high interest rates cut into affordability for prospective buyers.

The National Association of Home Builders/Wells Fargo homebuilder sentiment index fell to 45 this month from a reading of 50 in August, when builder sentiment had fallen for the first time since December. The fall in optimism was accompanied by a decrease of traffic of prospective buyers.

"High mortgage rates are clearly taking a toll on builder confidence and consumer demand, as a growing number of buyers are electing to defer a home purchase until long-term rates move lower," said Robert Dietz, chief economist at the NAHB.

Sales expectations among builders fell in September amid lower pricing, with the six-month outlook for home sales falling to 49 from 55 the month prior. Thirty-two percent of builders cut prices in September, the highest since December 2022.
---
Airbnb Really Is Different Now

At this point, the company hardly seems part of the gig economy at all.

Something feels a bit off with Airbnb these days. Those searching for a quaint and homey place to stay now often have to brave high prices, inconsistent fees, laborious checkout demands, and untrustworthy photos and descriptions. You risk ending up, like I did in Vermont, in one of multiple cookie-cutter units listed by the same host, units that lean less "cozy ski lodge" and more "IKEA display room that has never known human touch." Not only are customers mad, expressing their outrage across social media, but cities have also been cracking down. Earlier this month, New York City instituted a drastic new law that effectively bans most short-term rentals, resulting in the disappearance of 15,000 Airbnb listings.

The company's woes are tied to just how big it has become. Airbnb was launched in 2008, a year after beginning as three air mattresses on the floor of its founders' living room, but it is no longer a scrappy, community-minded platform powered by the gig economy. It's an industry in itself, full of endless hosts and large property companies that manage dozens or hundreds of listings at a time. The relentless increase in quantity has stretched the quality thin. Like any tech company, Airbnb has pursued growth. Along the way, it may have gotten more than it bargained for.
And here's a real estate analyst explaining just how brutal the market is becoming:
Video Length: 01:04:34
---
More By This Author:
Peter Zeihan: China Is Collapsing -- Now
Gold Is Doing Great -- In Other Currencies
Gold And Silver Mining Stocks Aren't Keeping Pace With Metals